Plasma enhanced chemical vapor deposition synthesis of metal carbide membranes for high temperature H2 separations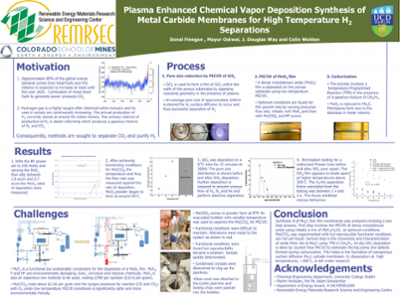 Name:
remrsec-Poster-2011-REU-DONAL- ...
Size:
905.6Kb
Format:
PDF
Description:
Plasma enhanced chemical vapor ...
Abstract
Approximately 80% of the global energy demand comes from fossil fuels and this reliance is expected to increase at least until the year 2020. Combustion of these fossil fuels to generate power produces CO2. Hydrogen gas is a highly sought after chemical within industry and its uses in society are continuously increasing. The annual production of H2 currently stands at around 50 million tonnes. The primary method of production of H2 is steam reforming which produces a gaseous mixture of H2 and CO2. Consequently, methods are sought to separate CO2 and purify H2.
Rights
Copyright of the original work is retained by the author.