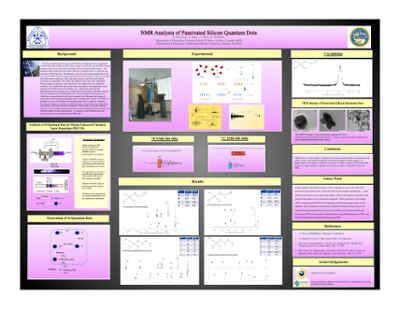 Name:
remrsec-Poster-2011-REU-BLAIRE ...
Size:
3.043Mb
Format:
PDF
Description:
NMR analysis of passivated silicon ...
Abstract
The increased demand for energy calls for the development of new approaches towards renewable energy sources. Solar energy is one of the most abundant energy resources that can be converted to thermal, chemical and electrical energy. The demand to increase solar energy production to the terra watt level motivated our project, and our research focused on better efficiency of photovoltaics. Silicon is the most developed semi-conductor in the world and because it has been well studied, techniques to manipulate and control its properties have been well established. Plasma enhanced chemical vapor deposition was employed as our method of synthesis. Passivation using chemistries containing alkyl chains promote Si-C bonds close to the surface area. Functionalizing these quantum dots will prevent the unwanted oxide layer and also decrease electron hole recombination rates. Nuclear Magnetic Resonance (NMR)- 1H and 13C - was utilized as a characterization tool to quantify and determine the degree of passivation of the synthesized quantum dots. Passivated samples were subjected to proton and carbon experiments to obtain structural information of the product. The obtained spectras show passivation of the desired ligand occurred with minimal impurities and contamination. Conductivity and photoluminescence results will also be correlated with the NMR data.
Rights
Copyright of the original work is retained by the author.