Chemical bath deposition of hematite nanostructures for photo-electrochemical water splitting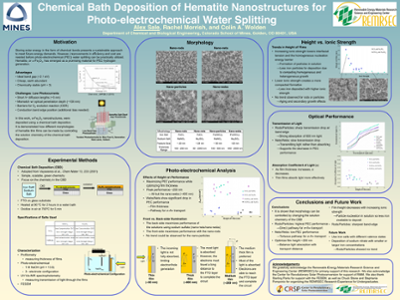 Name:
remrsec-Poster-2011-REU-ALEX-S ...
Size:
1.193Mb
Format:
PDF
Description:
Chemical bath deposition of ...
Abstract
Storing solar energy in the form of chemical bonds presents a sustainable approach to meet future energy demands. However, improvements in efficiency and cost are needed before photo-electrochemical (PEC) water splitting can be practically utilized. Hematite has emerged as a promising material for PEC hydrogen generation. The advantages of hematite include its ideal band gap and that it is cheap, earth abundant and chemically stable. The challenges of hematite include low photocurrents, short h+ diffusion lengths, a mismatch with optical penetration depth, barriers for oxygen evolution reaction (OER), and conduction band edge position (additional bias needed). In this work, hematite nanostructures were deposited using a chemical bath deposition to demonstrate how different morphologies of hematite thin films can be made by controlling the solution chemistry of the chemical bath deposition.
Rights
Copyright of the original work is retained by the author.