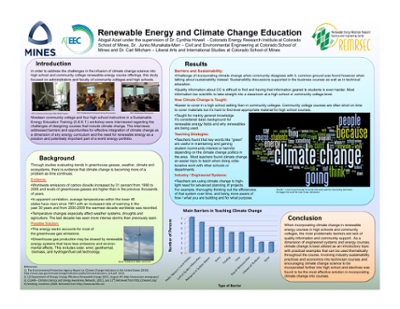 Name:
remrsec-Poster-2011-REU-ABBY-A ...
Size:
1.527Mb
Format:
PDF
Description:
Renewable energy and climate ...
Abstract
In order to address the challenges in the infusion of climate change science into high school and community college renewable energy course offerings, this study focused on administrators and faculty of community colleges and high schools. Nineteen community college and four high school instructors in a Sustainable Energy Education Training (S.E.E.T.) workshop were interviewed regarding the challenges of designing courses that include climate change. The interviews addressed barriers and opportunities for effective integration of climate change as a dimension of any energy curriculum and the need for renewable energy as a solution and potentially important part of a world energy portfolio.
Rights
Copyright of the original work is retained by the author.