Centrifugal sieving for the size separation of lunar regolith in microgravity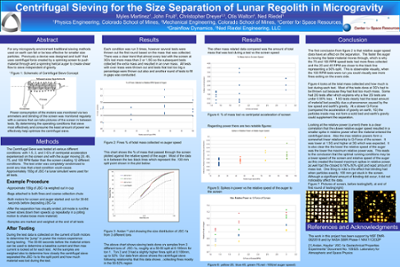 Name:
REMRSEC-REU-2012-Poster-MARTIN ...
Size:
634.1Kb
Format:
PDF
Description:
Centrifugal sieving for the size ...
Abstract
For any microgravity environment traditional sieving methods used on earth can fail or be less effective for smaller size particles. Previously a device was designed and built that uses centrifugal force created by a spinning screen to push material through and a spinning helical auger to create shear flow to sieve independent of gravity. Power consumption of the motors was monitored via two ammeters and blinding of the screen was monitored regularly with a camera that can take pictures of the screen in between tests. By determining the operating conditions that sieve most effectively and consume the least amount of power more effective optimization the centrifugal sieve can be achieved.
Rights
Copyright of the original work is retained by the author.