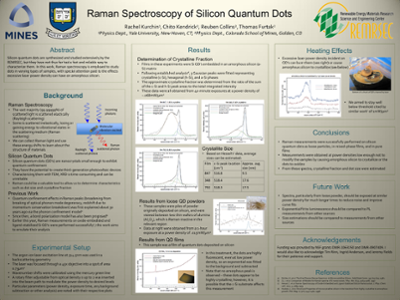 Name:
REMRSEC-REU-2012-Poster-KURCHI ...
Size:
789.5Kb
Format:
PDF
Description:
Raman spectroscopy of silicon ...
Abstract
Silicon quantum dots are synthesized and studied extensively by REMRSEC, but they have not thus far had a fast and reliable way to characterize them. In this work, Raman spectroscopy is employed to study dots in varying types of samples, with special attention paid to the effects excessive laser power density can have on amorphous silicon.
Rights
Copyright of the original work is retained by the author.