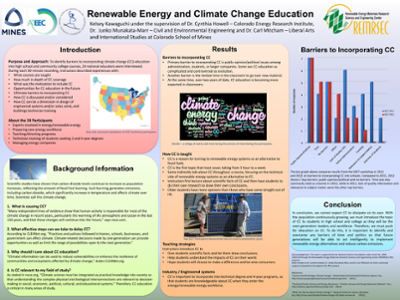 Name:
REMRSEC-REU-2012-Poster-KAWAGU ...
Size:
1.456Mb
Format:
PDF
Description:
Renewable energy and climate ...
Abstract
To identify barriers to incorporating climate change (CC) education into high school and community college courses, 24 national educators were interviewed. During each 30-minute recording, instructors described experiences with: (1) what courses are taught, (2) the depth of CC coverage, (3) what was the motivation to include CC, (4) opportunities for CC education in the future, (5) ultimate barriers to incorporating CC, (6) how CC is discussed and/or considered, (7) how CC can be a dimension in design of engineered systems and/or solar, wind, and buildings technician training. The participants were experts in energy/renewable energy, preparing the energy workforce, teaching/directing programs, technician training of students seeking 2 and 4-year degrees and managing energy companies.
Rights
Copyright of the original work is retained by the author.