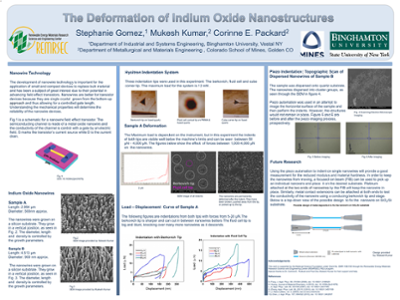 Name:
REMRSEC-REU-2012-Poster-GOMEZ- ...
Size:
1.431Mb
Format:
PDF
Description:
The deformation of indium oxide ...
Abstract
The development of nanowire technology is important for the application of small and compact devices to replace bulk material and has been a subject of great interest due to their potential in advancing field effect transistors. Nanowires are better for transistor devices because they are a single crystal grown from the bottom-up approach and thus allowing for a controlled gate length. Understanding the mechanical properties will determine the reliability of the nanowire devices.
Rights
Copyright of the original work is retained by the author.