Benzoic acid surface functionalization of conduction band engineered Zn1-xMgxO layers for enhanced organic/inorganic photovoltaics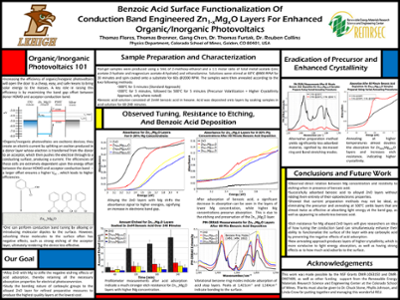 Name:
REMRSEC-REU-2012-Poster-FLORES ...
Size:
497.5Kb
Format:
PDF
Description:
Benzoic acid surface functiona ...
Abstract
Increasing the efficiency of organic/inorganic photovoltaics will open the door to a cheap, easy, and safe means to bring solar energy to the masses. A key role in raising this efficiency is by maximizing the band gap offset between donor HOMO and acceptor conduction band. Organic/inorganic photovoltaics are excitonic devices; they create an electric current by splitting an exciton produced in a donor layer whose electron is transferred from the donor to an acceptor, which then pushes the electron through to a conducting surface, producing a current. The efficiencies of these cells are extremely dependent upon the energy offset between the donor HOMO and acceptor conduction band - a larger offset ensures a higher VOC, which leads to higher efficiencies. One can perform conduction band tuning by alloying or introducing molecular dipoles to the surface. However, adsorbing these molecules to the surface often has negative effects, such as strong etching of the acceptor layer, ultimately rendering the device less effective. Therefore, this work alloys ZnO with Mg to stifle the negative etching effects of acid adsorption, thereby retaining all the necessary absorption properties for electrical photoconversion. And it will study the bonding nature of carboxylic groups to the alloyed ZnO layer for refined preparative measures to produce the highest quality layers at the lowest cost.
Rights
Copyright of the original work is retained by the author.