Cathodoluminescence and fluid inclusion characteristics of hydrothermal quartz from porphyry deposits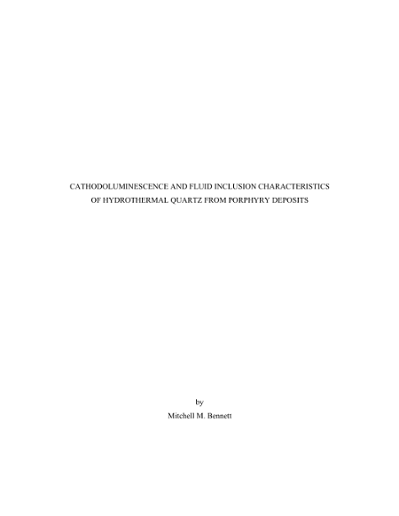 Name:
Bennett_mines_0052N_10376.pdf
Size:
23.37Mb
Format:
PDF
Description:
Cathodoluminescence and fluid ...
Advisor
Monecke, Thomas
Kelly, Nigel
Abstract
Porphyry deposits are one of the world's most important repositories of copper, gold, and molybdenum. Integrated fluid inclusion petrography and cathodoluminescence microscopy showed that stockwork veins in porphyry deposits are composed of multiple quartz generations. Early quartz showing a bright blue luminescence precipitated from a high-temperature fluid causing potassic alteration of the surrounding rock. The nature of the fluid inclusion assemblages entrapped in the quartz correlates with the depth of vein formation. Intermediate density fluid inclusions occur in deep deposits such as Butte in Montana while brine and vapor inclusions are abundant in deposits formed at intermediate depths, including Bingham Canyon in Utah and Far Southeast in the Philippines. Vapor inclusions dominate in the shallow deposits of the Maricunga belt in Chile. In mineralized veins, the early quartz is overprinted by quartz that precipitated at distinctly lower temperatures. The textural relationships between the different quartz generations are complex as formation of each generation of quartz was accompanied by alteration of the preexisting quartz. Alteration processes range from modification and quenching of the cathodoluminescence signal of the preexisting quartz to changes in the trace element content and whole-sale structural reorganization. In all deposits studied, late quartz showing a red-brown luminescence is texturally associated with the ore minerals. Based on the fluid inclusion evidence, ore deposition must have occurred over a temperature interval centered on the critical point of water. At Bingham Canyon, the ore-forming fluid was a hypersaline liquid while sulfide precipitation took place from a low-salinity liquid causing chlorite-sericite or sericite-pyrite alteration of the wall rocks in other deposits. The study shows that the identified characteristics of porphyry quartz are unique, allowing transported porphyry grains to be identified in stream sediments. Based on two case studies, it is demonstrated that quartz can be used as a pathfinder mineral in porphyry exploration.
Rights
Copyright of the original work is retained by the author.
Collections