Matrix-fracture interaction analysis in fractured unconventional gas reservoir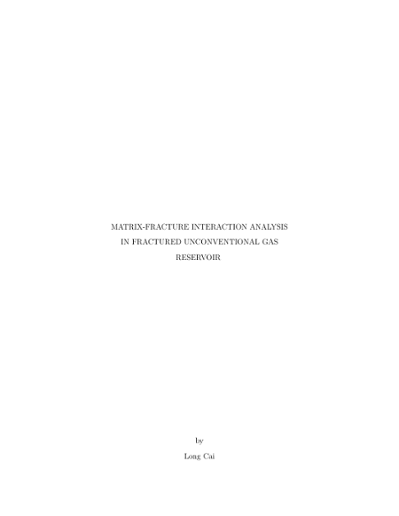 Name:
Cai_mines_0052N_10393.pdf
Size:
2.773Mb
Format:
PDF
Description:
Matrix-fracture interaction ...
Abstract
Handling flow through fractured media is critical in shale gas reservoir simulation, as gas production from such low-permeability formations relies on fractures, from hydraulic fractures/network to various scaled natural fractures, to provide flow channels for gas flow to production wells. Current technologies and modeling approaches used for unconventional fractured reservoir simulation are borrowed directly from those used in conventional reservoir simulation, which were developed in the past half century. Since the 1960s, significant progress has been made in mathematical modeling of flow and transport processes in fractured rock, such as explicit discrete-fracture and matrix model, the dual-continuum method, including double-porosity and multi-porosity and the multiple interacting continua method (MINC). The explicit discrete-fracture and matrix model is limited for application, due to the computational intensity involved. The double porosity model is widely used in conventional reservoir simulation, but it may be not applicable for unconventional shale gas reservoir simulation, as a result of the undesired reservoir condition. The MINC method treats interporosity flow in a fully transient way by further subdividing individual matrix blocks with a number of 1-D nested meshes. The MINC concept, however, assumes that fracture-matrix flow is controlled only by the distance to the nearest fracture surrounding the matrix block, which is shown to be no longer applicable after the early rapid transient period of flow. This research analyzes the limitations of the double porosity model, with several shape factors, and the MINC model. A new method called the Schwarz-Christoffel conformal mapping is introduced. This method improves the matrix-fracture interaction modeling for the square, or cubic, system. A concept combines the MINC and the Schwarz-Christoffel mapping concept by the analytical solution can accurately simulate the matrix-fracture interaction.
Rights
Copyright of the original work is retained by the author.
Collections