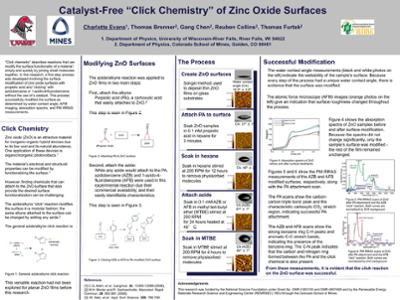 Name:
REMRSEC-REU-2012-Poster-EVANS- ...
Size:
1.210Mb
Format:
PDF
Description:
Catalyst-free 'click chemistry' ...
Abstract
Click chemistry' describes reactions that can modify the surface functionality of a material simply and quickly by joining small molecules together. In this research, a five step process was developed involving the surface modification of zinc oxide surfaces with propiolic acid and 'clicking' with azidobenzene or 1-azido-4-fluorobenzene without the use of a catalyst. This process successfully modified the surface as determined by water contact angle, AFM imaging, absorption spectra, and PM IRRAS measurements.
Rights
Copyright of the original work is retained by the author.