Synthesis of earth-abundant and nontoxic nanomaterials for sustainable energy: colloidal 3C-SiC quantum dots through a room temperature bottom-up method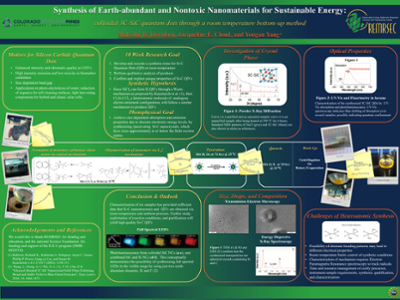 Name:
REMRSEC-REU-2012-Poster-DAVIDS ...
Size:
5.275Mb
Format:
PDF
Description:
Synthesis of earth-abundant and ...
Abstract
Motives for Silicon Carbide Quantum Dots: Enhanced intensity and chromatic quality as LED's; High intensity emission and low toxicity as biomarker candidates; Size dependent band gap; Applications in photo-electrolysis of water, reduction of organics for self cleaning surfaces, light harvesting components for hybrid and classic solar cells.
Rights
Copyright of the original work is retained by the author.