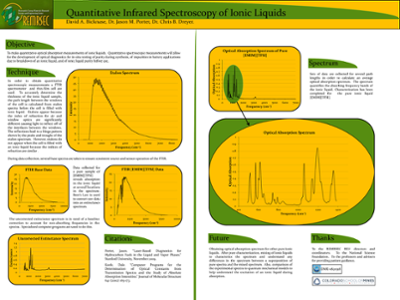 Name:
REMRSEC-REU-2012-Poster-BICKNA ...
Size:
834.1Kb
Format:
PDF
Description:
Quantitative infrared spectroscopy ...
Abstract
To make quantitative optical absorption measurements of ionic liquids. Quantitative spectroscopic measurements will allow for the development of optical diagnostics for in-situ testing of purity during synthesis, of impurities in battery applications due to breakdown of an ionic liquid, and of ionic liquid purity before use. In order to obtain quantitative spectroscopic measurements a FTIR spectrometer and thin-film cell are used. To accurately determine the thickness of the ionic liquid sample, the path length between the windows of the cell is calculated from etalon spectra before the cell is filled with ionic liquid. Etalons appear because the index of refraction for air and window optics are significantly different causing light to reflect off of the interfaces between the windows. The reflections lead to a fringe pattern shown by the peaks and troughs of the etalon spectrum. However, etalons do not appear when the cell is filled with an ionic liquid because the indices of refraction are similar. During data collection, several base spectra are taken to ensure consistent source and sensor operation of the FTIR. Data collected for a pure sample of [EMIM][TFSI] reveals absorption in the ionic liquid at several locations in the spectrum. Beer's Law is used to convert raw data into an extinctance spectrum. The uncorrected extinctance spectrum is in need of a baseline correction to account for non-absorbing frequencies in the spectra.
Rights
Copyright of the original work is retained by the author.