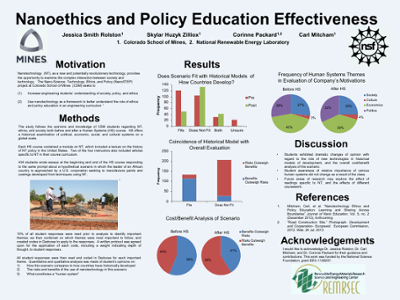 Name:
REMRSEC-REU-2013-Poster-ZILLIO ...
Size:
239.2Kb
Format:
PDF
Description:
Nanoethics and policy education ...
Abstract
Nanotechnology (NT), as a new and potentially revolutionary technology, provides the opportunity to examine the complex interaction between society and technology. The Nano-Science, Technology, Ethics, and Policy (NanoSTEP) project at Colorado School of Mines (CSM) seeks to: (1) increase engineering students' understanding of society, policy, and ethics; and (2) use nanotechnology as a framework to better understand the role of ethics and policy education in an engineering curriculum.
Rights
Copyright of the original work is retained by the author.