Development of neutron radiography capabilities using a radioisotope neutron source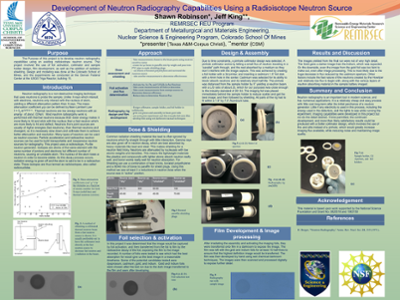 Name:
REMRSEC-REU-2013-Poster-ROBINS ...
Size:
1.369Mb
Format:
PDF
Description:
Development of neutron radiography ...
Abstract
The purpose is to develop neutron radiography capabilities using an existing radioisotope neutron source. This project involved the use of foil activation, collimator and sample holder design, film development, as well as the addition of radiation shielding. Design and modeling was done at the Colorado School of Mines, and the experiments we conducted at the Denver Federal Center at the USGS Triga Reactor, building 15.
Rights
Copyright of the original work is retained by the author.