Silyl ether passivation of silicon quantum dots via catalytic dehydrocoupling reactions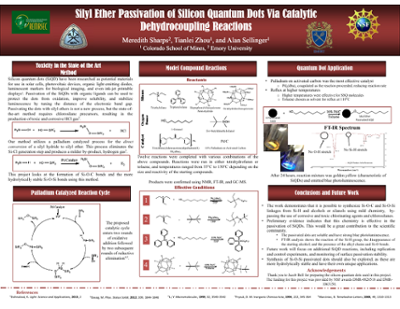 Name:
REMRSEC-REU-2013-Poster-SHARPS ...
Size:
266.3Kb
Format:
PDF
Description:
Silyl ether passivation of silicon ...
Abstract
Silicon quantum dots (SiQD) have been researched as potential materials for use in solar cells, photovoltaic devices, organic light emitting diodes, luminescent markers for biological imaging, and ink-jet printable displays. Passivation of the SiQDs with organic ligands can be used to protect the dots from oxidation, improve solubility, and stabilize luminescence by tuning the distance of the electronic band gap. Passivating the dots with silyl ethers is not a new process, but the state-of-the-art method requires chlorosilane precursors, resulting in the production of toxic and corrosive HCl gas. Our method utilizes a palladium catalyzed process for the direct conversion of a silyl hydride to silyl ether. This process eliminates the Si-Cl generation step and produces a milder by-product, hydrogen gas. This project looks at the formation of Si-O-C bonds and the more hydrolytically stable Si-O-Si bonds developed using this method.
Rights
Copyright of the original work is retained by the author.