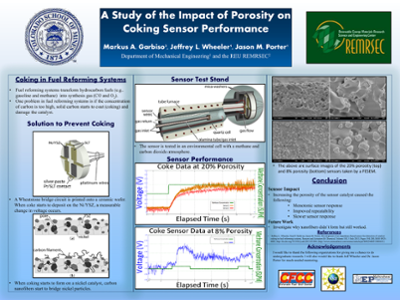 Name:
REMRSEC-REU-2013-Poster-GARBIS ...
Size:
4.299Mb
Format:
PDF
Description:
A study of the impact of porosity ...
Abstract
Fuel reforming systems transform hydrocarbon fuels (e.g. gasoline and methane) into synthesis gas (CO and O2). One problem in fuel reforming systems is if the concentration of carbon is too high, solid carbon starts to coat (coking) and damage the catalyst. A solution to prevent coking is a Wheatstone bridge circuit printed onto a ceramic wafer. When coke starts to deposit on Ni/YSZ, a measurable change in voltage occurs. When coking starts to form on a nickel catalyst, carbon nanofibers start to bridge nickel particles. The sensor is tested in an environmental cell with a methane and carbon dioxide atmosphere. Increasing the porosity of the sensor catalyst caused: monotonic sensor response, improved repeatability, and slower sensor response. Future work might be to investigate why nanofibers didn't form, but still worked.
Rights
Copyright of the original work is retained by the author.