Characterization of rapidly thermally annealed Cu doped ZnTe thin films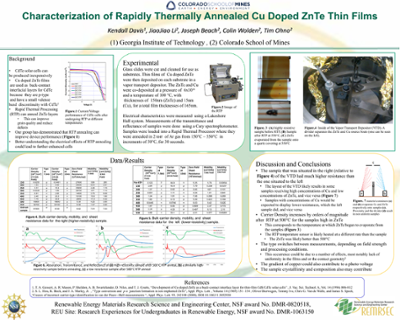 Name:
REMRSEC-REU-2013-Poster-DAVIS- ...
Size:
1.307Mb
Format:
PDF
Description:
Characterization of rapidly ...
Abstract
CdTe solar cells can be produced inexpensively and Cu doped ZnTe films are used as back-contact interfacial layers for CdTe because they are p-type and have a small valence band discontinuity with CdTe1, which can improve grain quality and reduce defects. This research demonstrated that RTP annealing can improve device performance. A better understanding of the electrical effects of RTP annealing could lead to further enhanced cells. Glass slides were cut and cleaned for use as substrates. Thin films of Cu doped ZnTe were then deposited on each substrate in a vapor transport depositor. The ZnTe and Cu were co-deposited at a pressure of 6x10-6 and a temperature of 100 degree C, with thicknesses of 150nm (ZnTe) and 15nm (Cu), for a total film thicknesses of 165nm. Samples were loaded into a Rapid Thermal Processor where they were annealed in 2 torr of Ar gas from 150 degree C to 550 degree C in increments of 50 degree C, for 30 seconds. Samples with concentrations of Cu would be expected to display lower resistances, and vice versa. Carrier Density increases by orders of magnitude after RTP at 500 degree C for the samples high in ZnTe. This corresponds to the temperature at which ZnTe began to evaporate from the samples. The type switches between measurements, depending on field strength and processing conditions. This occurrence could be due to a number of effects, most notably lack of uniformity in the films and or the contact geometry. The gradient of copper could also contribute to a photo voltage. The sample crystalllinity and composition also may contribute.
Rights
Copyright of the original work is retained by the author.