Etch resistant Zn1-xMgxO alloys as an e'-acceptor for dye sensitized solar cells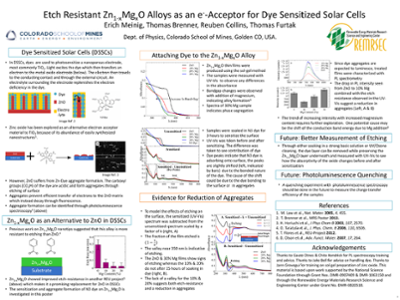 Name:
REMRSEC-REU-2013-Poster-MEINIG ...
Size:
944.4Kb
Format:
PDF
Description:
Etch Resistant Zn1-xMgxO alloys ...
Abstract
In DSSCs, dyes are used to photosensitize a nanoporous electrode, most commonly TiO2. Light excites the dye, which then transfers an electron to the metal oxide electrode. The electron then travels to the conducting contact and through the external circuit. An electrolyte surrounding the electrode replenishes the electron deficiency in the dye. Zinc oxide has been explored as an alternative electron acceptor material to TiO2 because of its abundance of easily synthesized nanostructures. However, ZnO suffers from Zn-Dye aggregate formation. The carboxyl groups of the dye are acidic and form aggregates through etching of the surface. Aggregates prevent efficient transfer of electrons to the ZnO matrix which instead decays through fluorescence. Aggregate formation can be identified through photoluminescence spectroscopy. Previous work on Zn1-xMgxO nanotips suggested that this alloy is more resistant to etching than ZnO4. Zn1-xMgxO showed improved etch-resistance in another project, which makes it a promising replacement for ZnO in DSSCs. The sensitization and aggregate formation of N3 dye on Zn1-xMgxO is investigated in this poster.
Rights
Copyright of the original work is retained by the author.