Functional mesoporous silica nanoparticles for the selective sequestration of fatty acids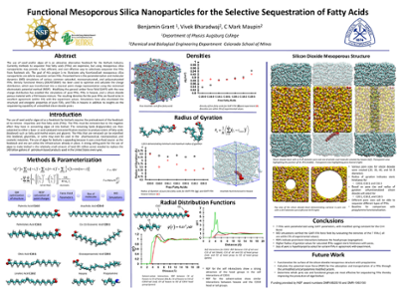 Name:
REMRSEC-REU-2013-Poster-GRANT- ...
Size:
1.746Mb
Format:
PDF
Description:
Functional mesoporous silica ...
Abstract
The use of seed and/or algae oil is an attractive alternative feedstock for the biofuels industry. Currently methods to sequester free fatty acids (FFAs) are expensive, but using mesoporous silica nanoparticles may provide a fast, efficient, and cost effective way to selectively sequester the FFAs from feedstock oils. The goal of this project is to illuminate why functionalized mesoporous silica nanoparticles are able to sequester certain FFAs. Presented here is the parameterization and molecular dynamics (MD) simulations of various common saturated, monounsaturated, and polyunsaturated FFAs. Density functional theory (B3LYP/CBSB7) has been used to optimize and calculate the charge distribution, which was transformed into a classical point charge representation using the restrained electrostatic potential method (RESP). Modifying the general amber force field (GAFF) with the new charge distribution has enabled the simulations of pure FFAs, FFAs in hexane, and a silicon dioxide porous material with a FFA-hexane mixture. The resulting densities for the pure FFAs are found to be in excellent agreement (within 5%) with the experiment values. Simulations have also elucidated the structural and energetic properties of pure FFAs, and FFAs in hexane in addition to insights on the sequestering capability of unmodified silicon dioxide pores.
Rights
Copyright of the original work is retained by the author.