Fabrication of ternary palladium alloy membranes for hydrogen production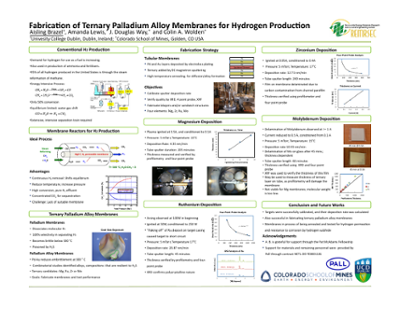 Name:
REMRSEC-REU-2013-Poster-BRAZEL ...
Size:
2.359Mb
Format:
PDF
Description:
Fabrication of ternary palladium ...
Abstract
Demand for hydrogen, for use in fuels, fertilizers, and the production of ammonia, is increasing. Since 95% of all hydrogen produced in the United States is through the steam reformation of methane, with only a 50% conversion, a limited equilibrium in the water-gas shift, and an extensive, intensive separation train being required, the goal of this project is to introduce membrane reactors for H2 production. The ideal process stream reforms CH4 and +H20 through a high temperature, H2 permeable membrane to produce H2 and CO2. The advantages of this process are: continuous H2 removal; reduced temperature and increased pressure; high conversion percentage; and concentrated CO2 for sequestration. But the challenge is a lack of suitable membrane. A ternary palladium alloy membrane was fabricated by depositing Pd and Au layers by electroless plating. Ternary was added by DC magnetron sputtering and high temperature annealing for diffusion/alloy formation. Four metals were deposited in the alloy membrane: magnesium, ruthenium, zirconium, and molybdenum. The targets were successfully calibrated, and their deposition rate was calculated. Also successful was the fabrication of ternary palladium alloy membranes. These membranes are in the process of being annealed and tested for hydrogen permeation and resistance to corrosion by hydrogen sulphide.
Rights
Copyright of the original work is retained by the author.