Existence of shear wave resonances in parabolic wave equation solutions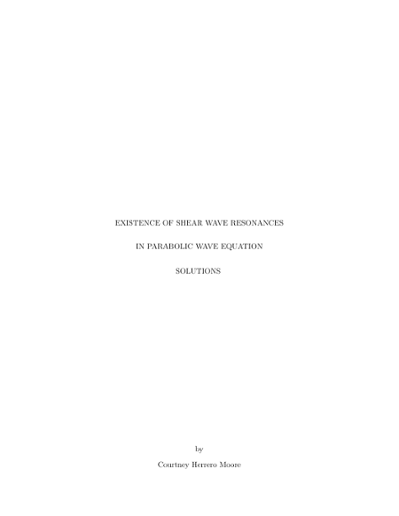 Name:
Moore_mines_0052N_10370.pdf
Size:
1.078Mb
Format:
PDF
Description:
Existence of shear wave resonances ...
Abstract
The ocean acoustic waveguide is often bounded below by a thin transitional solid layer of partially unconsolidated sediments, typically on the order of ten meters thick. A simple approximation of this waveguide has the transitional solid layer bounded above by the water column and below by an elastic basement, treated as a half space. In this work, focus is directed to the varied causes of resonance in the sediment layer, specifically those associated with the shear wave field. Resonance occurs when a system produces more energy at specific frequencies than at other frequencies. Using a range dependent elastic parabolic equation solution, a frequency versus transmission loss profile is created and then compared to data collected from an experiment off the coast of Nova Scotia. Results show that resonance effects are reproduced by the parabolic equation solution, a result that has not previously before been verified. A parameter study is done to determine the effects that changing the distance between source and receiver, varying densities, changing the shear speed profile as well as the compressional speeds, and changing the transitional layer thickness have on the existence and detection of resonance using elastic parabolic equation solutions.
Rights
Copyright of the original work is retained by the author.
Collections