Investigation of rolling-sliding contact fatigue damage of carburized gear steels, An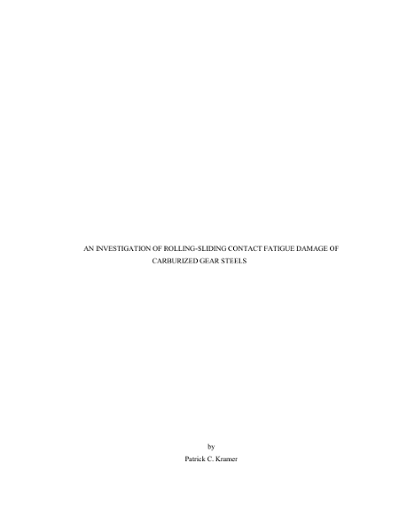 Name:
Kramer_mines_0052N_10366.pdf
Size:
12.80Mb
Format:
PDF
Description:
An investigation of rolling-sliding ...
Abstract
The goal of this study was to evaluate the differences in RSCF performance between vacuum and gas carburized steels as well as to investigate the evolution of damage (wear and microstructure changes) leading to pitting. Vacuum and gas carburizing was performed on two gear steels (4120 and 4320) at 1010°C. The carburized specimens were tested in the as-carburized condition using a RSCF machine designed and built at the Colorado School of Mines. The tests were conducted at 3.2 GPa nominal Hertzian contact stress, based on pure rolling, 100°C, and using a negative twenty percent slide ratio. Tests were conducted to pitting failure for each condition for a comparison of the average fatigue lives. Pure rolling tests were also conducted, and were suspended at the same number of cycles as the average RSCF life for a comparison of fatigue damage developed by RCF and RSCF. Incremental tests were suspended at 1,000, 10,000, 100,000, and 200,000 cycles for the vacuum carburized steels to evaluate the wear and damage developed during the initial cycles of RSCF testing and to relate the wear and damage to pitting resistance. Incremental damage was not investigated for gas carburizing due to the limited number of available specimens. The vacuum carburized samples showed a decreased pitting fatigue resistance over the gas carburized samples, possibly due to the presence of bainite in the vacuum carburized cases. Pitting was observed to initiate from surface micropitting and microcracking. A microstructural change induced by contact fatigue, butterflies, was shown to contribute to micropitting and microcracking. Incremental testing revealed that the formation of a microcrack preceded and was necessary for the formation of the butterfly features, and that the butterfly features developed between 10,000 and 100,000 cycles. The orientation and depth of butterfly formation was shown to be dependent upon the application of traction stresses from sliding. RSCF butterflies formed nearly parallel to the rolling direction at a large range of depths. RCF butterflies formed at about 45° to the rolling direction in a more narrow range of depths. The surface roughness and surface profile were observed to change quickly in the first several thousand cycles of RSCF testing leading to a reduction in contact stress and increase in lambda ratio (ratio of lubricant fluid film thickness to composite surface roughness). The ability of a carburized sample wear track to reach and maintain a steady state morphology (run-in condition) during testing is postulated to translate to increased RSCF resistance.
Rights
Copyright of the original work is retained by the author.
Collections