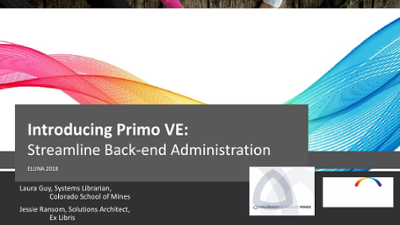 Name:
VE for ELUNA Final - 16x9.pdf
Size:
4.023Mb
Format:
PDF
Description:
Presentation PPT
Abstract
You've already seen the new Primo user interface, but have you considered the benefits of combining Primo VE, a brand-new deployment model for Primo, with the new Primo UI? Primo VE provides unified back office management of Primo and Alma, resulting in a reduction of duplicated administrative processes and providing seamless publishing processes, real-time discovery of records created in Alma, and the task-oriented configuration and setup that many libraries already enjoy for other library workflows in Alma. Primo VE provides an enhanced user experience for both patrons and staff. In this session, we will also discuss customizing the new Primo UI in Primo VE, accessing Analytics, and working with the Central index.
Rights
Copyright of the original work is retained by the author.
Collections