Numerical study of thermal-hydraulic-mechanical behavior of fractured geothermal reservoirs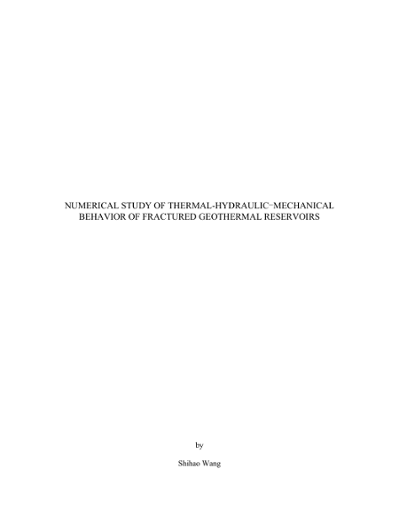 Name:
WANG_mines_0052N_10746.pdf
Size:
2.785Mb
Format:
PDF
Description:
Numerical study of thermal-hyd ...
Abstract
This work aims to develop powerful numerical tools to study the thermal-hydraulic-mechanical (THM) behavior of fractured geothermal reservoirs. It contains three parts: a massively parallel fully coupled THM simulator, a semi-analytical correlation to capture the thermal induced fracture aperture change and the multistage preconditioning used for THM simulation. A massively-parallel, fully-coupled THM simulator, THM-EGS, has been developed and verified. The simulator is written in Fortran 03 and the governing equations are solved using Integral Finite Difference Method (IFD). Mechanical deformation effects are captured by solving a mean stress equation, derived from the equations governing deformation of porous media. This equation is computationally efficient and accurate enough for reservoir flow applications. The simulator has an efficient parallel computation scheme using MPI for communication between processes. A novel correlation of the thermal-induced normal change of fracture aperture has been derived. The new correlation is based on the solution of the governing displacement equations. Compared to the existing empirical correlations, the new correlation can better describe the physical processes. The new correlation can also be applied to elastic-plastic fractures. We have implemented this correlation in THM-EGS. The correlation has been used to study the permeability enhancement effect of a hydraulically connected well pair. The results are that the permeability will be enhanced by as large as 2 orders of magnitude. The results of this study have the potential to guide the operations of geothermal reservoirs. We will also investigate multi-stage preconditioning in THM simulation. We will implement a Constraint Pressure Residual (CPR) type multistage preconditioner into the linear solver of THM-EGS. In the multistage preconditioner, the fluid, energy and mechanical equation are preconditioned with different strategies based on their own unique feature. The multistage preconditioner has been tested on both homogeneous and heterogeneous problems. It has greatly improved the numerical performance of the linear solver, especially for highly heterogeneous problems.
Rights
Copyright of the original work is retained by the author.
Collections