Estimating the cosmic ray extensive air shower detection rate for the EUSO-Super Pressure Balloon mission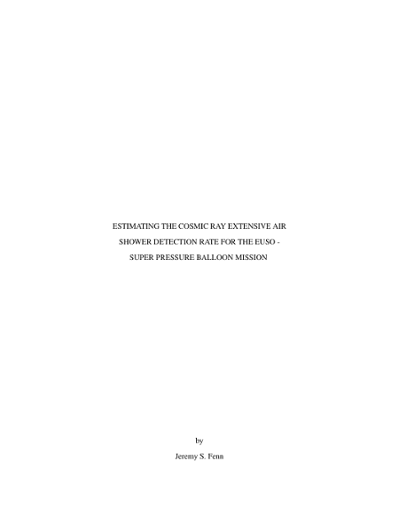 Name:
Fenn_mines_0052N_10743.pdf
Size:
5.637Mb
Format:
PDF
Description:
Estimating the cosmic ray extensive ...
Advisor
Wiencke, Lawrence
Abstract
Ultra-high energy cosmic rays (UHECRs) are the most energetic particles ever recorded. How ever, their sources and acceleration mechanisms are unknown. The JEM-EUSO mission is a UHECR detector planned for the International Space Station (ISS). Its main scientific objective is to identify the sources of UHECRs and measure their energy spectra. It will do so by recording the fluorescence light emitted by cosmic ray interactions in the atmosphere from outer space. Above 1020 eV, the flux of UHECR is less than one particle per square kilometer per century, making it difficult to record a significant number of UHECR events. The unique approach of JEM-EUSO is expected to yield a dramatic increase in detection rate relative to the largest ground based observatories in the world. The EUSO - Super Pressure Balloon (EUSO-SPB) mission is a pathfinder mission for JEM-EUSO. It uses a prototype version of the JEM-EUSO detector to look down on the atmosphere from a stratospheric balloon at an altitude of approximately 40 km. EUSO-SPB is planned to launch for a long duration flight in 2017 from Wanaka, New Zealand. In this thesis we use extensive air shower simulations and the cosmic ray flux to estimate the expected rate of UHECR detection for EUSO-SPB as a function of energy and detector optical efficiency. We find that in a seven night mission with eight hours of observation time per night EUSO-SPB would record approximately ten UHECR events, all with energies above 1018 eV.
Rights
Copyright of the original work is retained by the author.
Collections