Development of single molecule total internal reflection fluorescence microscope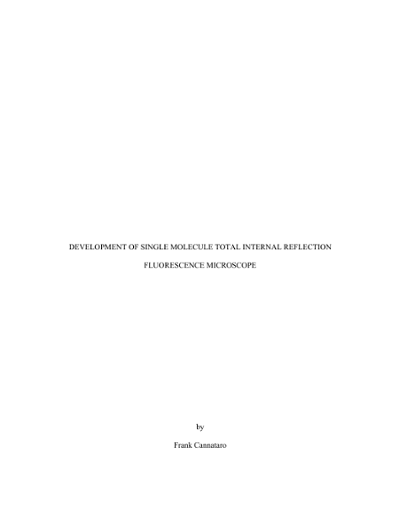 Name:
Cannataro_mines_0052N_10737.pdf
Size:
1.939Mb
Format:
PDF
Description:
Development of single molecule ...
Advisor
Sarkar, Susanta K.
Sullivan, Neal P.
Abstract
We mostly think and communicate science at the single-molecule level, but do experiments at the ensemble level. This gap between our thinking and experiments has been closing with the advent of single-molecule techniques nearly twenty years ago. Single-molecule techniques have proved very useful in probing individual molecules and heterogeneities, and have provided unprecedented insights into previously inaccessible scientific knowledge. Studying molecules one by one using single-molecule techniques has become very useful in revealing insights into mechanistic details hidden in ensemble experiments. I have built a total internal reflection fluorescence (TIRF) microscope with single-molecule sensitivity to study fluorescent molecules. The microscope is modular and multifunctional with capabilities including a wide excitation wavelength range (400-2000 nm) both in objective-type and prism-type TIRF configurations, localization accuracy ~1 nm, temporal resolution ~1 ms, and alternate laser excitation. As an application, we have measured high-throughput photoluminescent spectra of individual CdSe quantum dots.
Rights
Copyright of the original work is retained by the author.
Collections