Development of a circulating fluidized bed reactor model for the fast pyrolysis of biomass for process simulation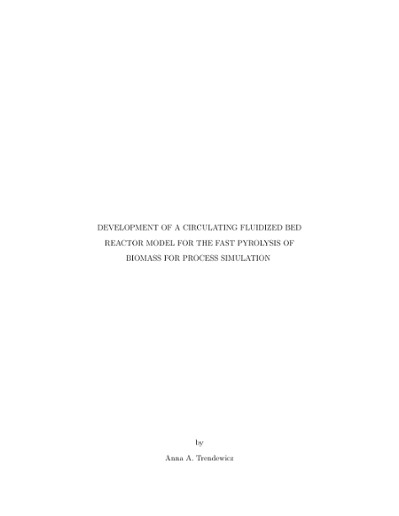 Name:
Trendewicz_mines_0052E_10719.pdf
Size:
4.229Mb
Format:
PDF
Description:
Development of a circulating ...
Advisor
Braun, Robert J.
Dutta, Abhijit
Abstract
Biomass fast pyrolysis is one of the possible methods for converting solid biomass into liquid fuels or chemicals. Obtaining liquid fuels (especially for transportation) from renewable sources is of increasing interest due to concerns about economics and environmental impact of using depleting fossil fuels. The viability of fast pyrolysis pathways to liquid fuels is typically assessed by performing system-wide techno-economic analyses (TEAs) of biorefineries. This analysis requires system models capable of predicting fast pyrolysis products and process energy requirements from different biomass feedstocks (chemical composition, alkali) and under different operating conditions (temperature, particle size, residence time). The TEA system models currently used are computationally simple and based on a small amount of experimental results which significantly limits their utility. The goal of this work is to develop an engineering reactor model for future integration with process simulations in order to gain a better understanding of the impact of fluid dynamics, heat transfer and reaction kinetics on the products yields and composition. The current work addresses the issues of providing an engineering approximation of the effects of biomass composition variations, residence time and reaction temperature on pyrolysis process by incorporating the following features: (1) a flexible pyrolysis reaction mechanism inclusive of the catalytic effect of intrinsic contaminants, (2) one-dimensional, steady-state momentum balance for solids-gas flow, and (3) one-dimensional, steady-state energy equation. Simulation results regarding pyrolysis product yields are validated with the available experimental results and literature data. The fluid dynamics results are verified with the results from a transient, 2-D reactor model developed in MFIX. The simplifying assumptions related to the biomass particle geometry and properties are verified by comparison with simulation results from a 3-D, microstructure biomass particle model. The results show that the two most influential parameters on product yields and composition are the reaction temperature and biomass composition. Changing the remaining operating parameters (besides reaction temperature and biomass feedstock) causes changes in velocity profiles, temperature profiles, point of reaction onset, and reaction rates. However, the final product yields at the reactor outlet remain unchanged provided that the residence time is sufficient for full conversion. The employed reaction model gives good predictions of product classes for the low ash content feedstocks such as pine, however it significantly overpredicts the organics yields from high ash content feedstocks. This is because the catalytic effect of intrinsic contaminants is not included in the reactions. Therefore, the reaction mechanism was corrected for potassium as a representative of the intrinsic contaminants in order to improve the predictive capabilities of the model from feedstocks with high ash content. Validation and verification efforts show that the temperature profiles, product yields and composition are in good agreement with higher order models and experimental data. However, the model overpredicts particle velocities and consequently underpredicts pressure drop, as the effect of particle clustering is not captured in the 1-D, steady-state flow representation. Therefore, a drag model adjustment is required for improved particle residence time predictions. The developed model provides valuable information about the temperature distribution, velocity profiles and species concentration profiles along the rector at a low computational cost and it offers better product predictions compared to the yield reactor models used in TEAs.
Rights
Copyright of the original work is retained by the author.
Collections