Time and frequency domain finite element analysis of vibratory drum interaction with layered earthwork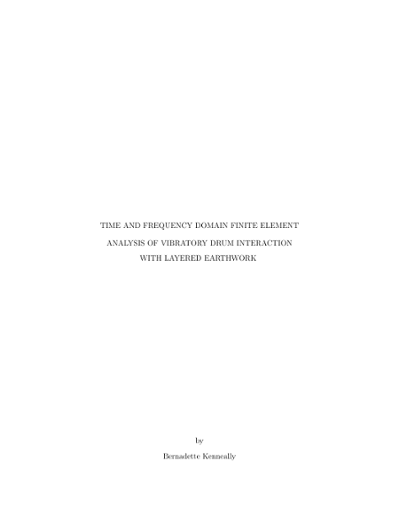 Name:
Kenneally_mines_0052E_10718.pdf
Size:
4.914Mb
Format:
PDF
Description:
Time and frequency domain finite ...
Advisor
Mooney, Michael A.
Wang, Judith
Abstract
The earthwork construction industry has been making a necessary shift from quality control/quality assurance (QC/QA) via spot based density and moisture testing to QC/QA via full coverage mechanistic testing (e.g. modulus, stiffness) to allow for performance based assessment of compaction QA/QC. As a result, vibration-based drum measurement of soil properties during compaction, known as Intelligent Compaction (IC) or Continuous Compaction Control (CCC), has gained traction in the US. Using the contact force-drum displacement (F-z) data, coupled with an onboard computer and GPS measurements, the operator can perform real-time QC on 100% of the compacted region, a significant improvement over current spot test methods. For vibratory drums to provide useful, mechanistic measurements, a quantitative understanding of the drum/soil system is needed. This research contributes to advancements in Intelligent Compaction by addressing the challenge of modeling the dynamic, non-linear drum/soil system for homogenous and two-layer soil systems. This thesis focuses on time and frequency domain finite element (FE), and analytical modeling to explore the sensitivity of layer parameters such as Young's modulus, material damping, and top layer thickness on drum response. Results from both finite element models are compared with field data and with each other, to gain insight into how the finite element implementations of Rayleigh damping in the time domain, and hysteretic damping in the frequency domain, affect the force-displacement behavior of the drum. Additionally, this thesis examines expertise in technology adoption process within state DOT's to gain insights into thecombinations of expertise required for sucessful new technology adoption.
Rights
Copyright of the original work is retained by the author.
Collections