Engineered osmosis technology for desalination of oil and gas exploration wastewaters: assessment of membrane performance and process sustainability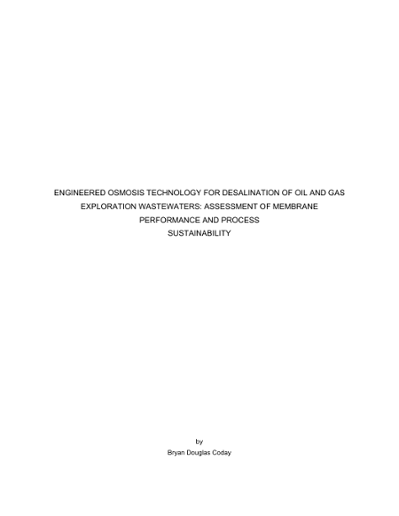 Name:
Coday_mines_0052E_10717.pdf
Size:
5.753Mb
Format:
PDF
Description:
Engineered osmosis technology ...
Abstract
The United States is experiencing rapid growth in oil and gas (O&G) exploration and production. Consequently, there is an ever-increasing demand for water, necessary for well drilling and for enhancement of O&G extraction from different formations. At a single drilling location, over 1,000,000 gallons of drilling wastewater and 5,000,000 gallons of hydraulic fracturing wastewater can be generated in the course of several weeks. This wastewater contains chemicals that assist in drilling and hydraulic fracturing, minerals leached from subsurface formations, and dissolved and suspended organic and inorganic contamination. Ultimately, this water is permanently removed from the local fresh water cycle, as deep well injection is the current method of disposal; this disposal technique can be perceived as an environmental threat to local and regional groundwater supplies when conducted improperly. In order to be reused in further oil and gas exploration, and minimize the environmental impacts on local and regional water supplies, low cost treatment is necessary that is robust under harsh operating conditions and minimal field resources. An emerging membrane technology that can treat impaired water for industrial reuse is forward osmosis (FO). In FO, a highly concentrated draw solution imparts an osmotic pressure difference across a semipermeable membrane to extract water from impaired feed solutions. The use of FO has already shown many advantages in the treatment of a variety of complex industrial wastewaters. The main advantages include low hydraulic pressure operation, reduced fouling propensity compared to pressure-driven membrane processes, and high rejection of emerging contaminants and dissolved solids. While field and pilot-scale testing of FO at the industrial level have proved promising, there is still much to learn about the performance and sustainability of the FO process when treating O&G exploration and production wastewaters. Therefore, my dissertation investigated the benefits, performance, and sustainability of different configurations of the FO process for treatment of wastewater generated by the upstream sector of the O&G industry. These investigations included: (1) a comprehensive review of the principles and state-of-the-art of FO, and its successful development and demonstration in the upstream sector of the O&G industry, (2) an investigation of the changes in membrane performance as a function of increasing hydraulic TMP, which highlights the knowledge gap that still exists between standardized membrane comparisons at the bench-scale and performance comparisons under hydraulic conditions common in industrial applications, (3) an evaluation of the impacts of high ionic strength on membrane surface charge (zeta potential) using a combination of streaming potential measurements and theoretical modeling, (4) the impacts of membrane selection and operating conditions on the performance of FO membranes for treatment and desalination of raw produced water from shale gas operations, (5) an exploration of the impacts of produced water exposure on the transport and physiochemical properties of FO membranes, and (6) the evaluation of the environmental and economic impacts of a decentralized FO system when used for dewatering raw pit water during O&G exploration activities. While the scope of the doctoral research and these investigations was to enhance the FO technology specifically for desalination of O&G exploration and production wastewaters, the results of each study have far reaching implications across all applications of FO, and other semipermeable membrane technologies in general.
Rights
Copyright of the original work is retained by the author.
Collections