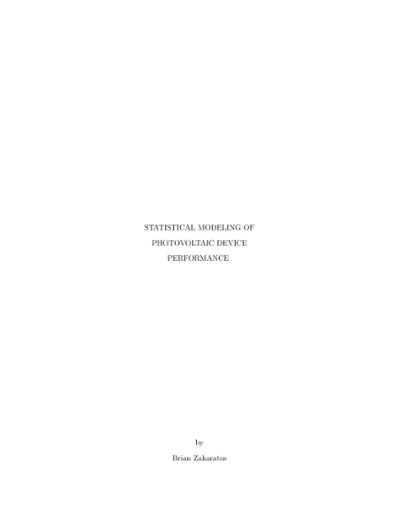 Name:
Zaharatos_mines_0052E_10715.pdf
Size:
3.509Mb
Format:
PDF
Description:
Statistical modeling of photov ...
Advisor
Tenorio, Luis
Constantine, Paul G.
Abstract
Accurate performance modeling of photovoltaic (PV) devices is important for increasing the usage, reliability, and bankability of solar energy. For example, performance modeling of PV devices can help reduce costs and spur deployment by giving confidence to system engineers, customers, lenders, and investors. The performance of a PV device is typically determined by measuring its current-voltage (I-V) characteristics. These measurements, along with a performance model such as the single-diode model, are used to estimate important device performance parameters such as the maximum power output under a range of operating conditions. Many possible approaches to estimating these parameters have been explored in the PV literature. However, to the best of our knowledge, a statistical approach to PV performance modeling using measured I-V characteristics and the single-diode model has not yet been studied. In this thesis, we study several aspects of parameter estimation for the single-diode model, often within a statistical framework, in order to provide more reliable estimates of PV performance parameters.
Rights
Copyright of the original work is retained by the author.
Collections