Compositional modeling of multiphase flow and enhanced oil recovery prospects in liquid-rich unconventional reservoirs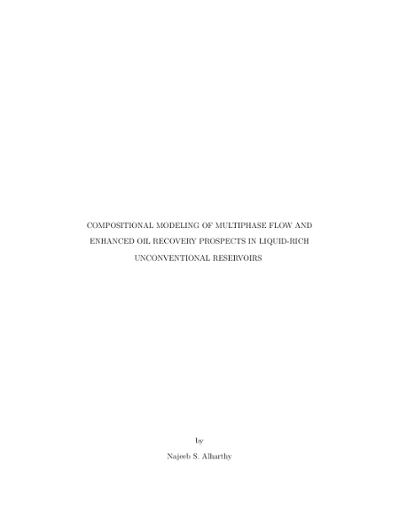 Name:
Alharthy_mines_0052E_10710.pdf
Size:
5.938Mb
Format:
PDF
Description:
Compositional modeling of ...
Advisor
Kazemi, Hossein
Graves, Ramona M.
Abstract
Production of tight oil from shale reservoirs in North America reduces oil imports and provides better economics than natural gas. Thus, many companies have directed their efforts to liquids production from Bakken, Eagle Ford, Niobrara, etc. Bakken recoverable reserves is estimated to be 7.4 billion barrels. Despite advances in technology, the oil recovery factor remains low (4% to 6%) (Energy Information Administration, 2013). To produce these liquid-rich shale reservoirs efficiently, a thorough understanding of flow mechanisms, reservoir properties, and rock and fluid interactions is necessary. This work will present two areas for investigation. First, this research work presents compositional modeling of liquid-rich unconventional reservoirs using volume balance method. A 2D three-phase single and dual-porosity models using volume balance method are developed and presented. Due to the explicit nature of the phase saturation calculations, a discrepancy in the number of moles in the system was observed and a "mole correction term" was introduced to rectify the material balance error for the system. Since the volume balance approach uses partial molar volume as weighting factors, a robust partial molar volume algorithm is presented and validated against published experimental data by Wu 1973. The volume balance dual-porosity model aforementioned is used to model depletion of liquid-rich unconventional reservoir going below saturation pressure and the model results are validated with CMG GEM compositional simulator. Finally, the model is used to study multiphase flow regimes observed in liquid-rich reservoirs in the field. The analysis helps decipher multiphase bilinear and multiphase linear flow regimes using compositional flow rate-normalized pressure analysis from the volume balance method. From the analysis, the effective permeability and hydraulic fracture permeability is calculated and presented. Second, the enhanced oil recovery potential of liquid-rich shale reservoirs was evaluated using laboratory data from experiments conducted at Energy and Environmental Research Center (EERC) on several Bakken core samples of different size. We present both laboratory and numerical modeling of carbon dioxide (CO2) oil recovery from these Bakken cores. We also evaluate the EOR potential of using produced associated gas for injection. In laboratory experiments CO2 injection recovers higher than 90% of oil from several Middle Bakken cores and up to 40% from Lower Bakken cores. To decipher the oil recovery mechanisms in these experiments, a numerical compositional model was used to match laboratory results. We concluded that CO2 injection mobilizes matrix oil by miscibility and solvent extraction -- leading to counter-current flow of oil from the matrix instead of oil displacement in the matrix (which is the conventional EOR wisdom). Specifically, the controlling factors include re-pressurization, diffusion-advection mass transfer, oil swelling, and viscosity reduction. Laboratory results were scaled to field application in a North Dakota Middle Bakken well. The primary oil depletion period was history matched and oil production was forecasted for 10 years, recovering 6.2% oil. Then, we devised an EOR protocol using huff-and-puff supercritical CO2 injection and natural gas liquids (NGL). Approximately 5% additional oil was produced by CO2 solvent and 6.25% by NGL solvent for fracture spacing of 500 feet. We believe oil recovery will increase further with closer fracture spacing.
Rights
Copyright of the original work is retained by the author.
Collections