Uniaxially aligned, porous collagen-GAG scaffolds for in vitro modeling of trabecular meshwork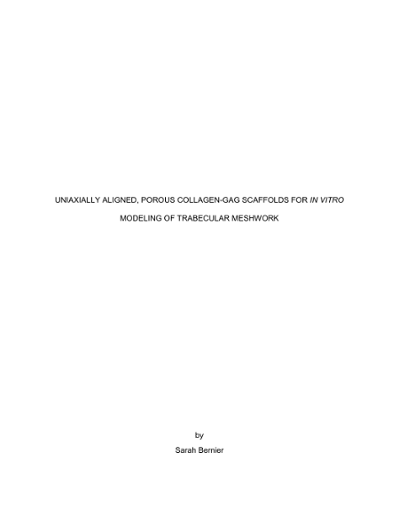 Name:
Bernier_mines_0052N_10707.pdf
Size:
2.065Mb
Format:
PDF
Description:
Uniaxially aligned, porous ...
Advisor
Krebs, Melissa D.
Pantcheva, Mina
Abstract
Glaucoma is the world's leading cause of irreversible blindness. There is currently no cure due to insufficient understanding of the pathology of the disease. Glaucoma has been associated with elevated intraocular pressure. The source of this pressure has been correlated with insufficient outflow of aqueous humor through the trabecular meshwork (TM). The trabecular meshwork is a complex, three dimensional tissue in the eye composed of organized layers of TM cells in an extracellular matrix consisting primarily of collagen and glycosaminoglycan (GAG). Many groups have been studying TM cells in vitro to examine their gene expression and response to drugs. However, most in vitro studies of TM cells are likely over-simplified since there is a significant difference between the planar surfaces on which the TM cells are traditionally cultured and the complex topographic environment in vivo. The physiology of TM cells has been shown to be affected by the topographic cues to which they are exposed. For this reason, there is need for a three dimensional in vitro model of the TM for glaucoma drug screening. The goal of this work was to fabricate such a model and explore its interaction with TM cells. To achieve the overall goal of designing an in vitro model, three objectives were outlined: 1) Fabricate collagen-GAG scaffolds with vertically aligned anisotropic pores to mimic the structure of the native tissue. 2) Characterize fabricated scaffolds with scanning electron microscopy (SEM), dynamic mechanical analysis, and glycosaminoglycan quantification. 3) Seed TM cells onto fabricated scaffolds and explore their viability, proliferation, migration, and gene expression. The first and second goals were achieved in tandem. Uniaxially aligned pores were obtained by employing a unidirectional freezing and lyophilization process. Scanning electron microscopy confirmed the formation of these pores. Image analysis performed on SEM images revealed the average pore diameter to be 13.7 ± 5.21 µm and the pore density to be 2027 pores/mm2. Dynamic mechanical analysis was used to measure the storage modulus of hydrated collagen-only and collagen-GAG scaffolds. There was no statistical difference in the modulus between the two. Glycosaminoglycan content was measured over time using two crosslinking techniques: dehydrothermal crosslinking alone and dehydrothermal crosslinking plus EDC (1-Ethyl-3-(3-dimethylaminopropyl)carbodiimide) chemistry. It was found that both crosslinking techniques resulted in the same rate of elution of GAG from fabricated scaffolds. The third goal was achieved with various techniques. Viability was tested using fluorescent cellular stains and evaluating cell health over time. A proliferation assay was used to measure growth. Both tests confirmed that cells remained alive and proliferated two weeks after seeding. Histology was used to examine cell proliferation and migration. Histology sections revealed that at lower cell seeding densities, cell preferred to stay near the surface of the scaffolds and remain in contact with each other. At higher seeding densities, there was more migration into the internal pore structure. Gene expression using quantitative polymerase chain reaction (qPCR) was used to confirm the identity of TM cells isolated directly from porcine tissue. The results showed that both isolations of TM cells responded in the expected manner when exposed to glucocorticoids by overexpressing the protein myocilin.
Rights
Copyright of the original work is retained by the author.
Collections