Synthesis of inorganic/organic composite particles by tailoring the surface and interface chemistry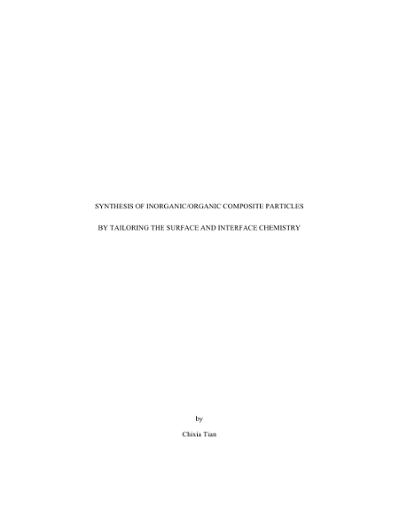 Name:
Tian_mines_0052E_10706.pdf
Size:
6.331Mb
Format:
PDF
Description:
Synthesis of inorganic/organic ...
Advisor
Boyes, Stephen G.
Wu, Ning
Abstract
Due to the tremendous potential application of noble metal (especially gold (Au)) nanoparticles and metal-organic frameworks (MOFs) in both biomedical and catalysis areas, they have been intensively studied. A controllable integration of these two materials oftentimes generates combined and/or synergetic properties. Although great efforts have been applied to synthesize well-defined MOF-metal nanoparticle composites, none of them have reported MOFs based on lanthanide (e.g., gadolinium (Gd)) metal centers. Therefore, in this dissertation, two different approaches have been proposed to effectively combine Au nanoparticles (AuNPs) with GdMOFs. The first method relied on the surface modification of GdMOF nanoparticles with poly(acrylic acid) (PAA) prepared by reversible addition-fragmentation chain transfer (RAFT) polymerization. The RAFT produced PAA contains thiocarbonyl thiol end-groups that can be reduced to thiols and used to coordinate the PAA with GdMOF nanoparticles. PAA contains carboxylic acid groups that offer binding sites for Au ions that can be subsequently reduced to AuNPs. The nanocomposites were successfully synthesized and presented excellent performance as a bimodal imaging agent for magnetic resonance imaging (MRI) and x-ray computed tomography (CT). In addition, to demonstrate the versatility of these nanocomposites, they were used to catalyze the reduction of 4-nitrophenol with sodium borohydride. These results demonstrated that the GdMOF supported AuNPs provide exceptional catalytic performance when compared to GdMOF-Au composites that were not modified with PAA and plain AuNPs. In an effort to control the Au/Gd ratio more precisely, another approach was employed to prepare AuNP core-GdMOF shell nanostructures for use as multi-modal contrast agents. This was achieved using a ligand exchange process, where the cetyltrimethylammonium bromide (CTAB)-stabilization layer on pre-synthesized Au nanorods (AuNRs) was replaced with mercaptosuccinic acid (MSA). The MSA molecules, with carboxylic acid groups, facilitated the heterogeneous nucleation and growth of GdMOF shell on the surfaces of AuNRs. Well-controlled core-shell nanoparticles were produced with promising contrast capability in bimodal imaging for MRI and CT. The methodology utilized in the synthesis also found success in preparing other MOF shells. Extending the RAFT polymer modification of nanoparticles to micro-sized polymer particles was also investigated. The capability to selectively attach RAFT agent on the original lobe of the dumbbell shaped polystyrene (PS) particles allowed for a subsequent RAFT polymerization to functionalize the original lobe with RAFT polymers. However, great challenges remained in an attempt to selectively functionalize the second lobe. Despite this, the method of utilizing a hydrophilic monomer to swell the PS seed particles demonstrated promising results to further modify the second lobe with RAFT agents. In summary, inorganic/organic composite particles have been prepared with different strategies. In each case, surface modification with either polymers or small molecules was found to be crucial to effectively integrate multiple components into the same structure. The methods provided in this thesis not only demonstrated their applications in either bioimaging or catalysis, but also offer great opportunities to prepare other composite materials for expanding applications.
Rights
Copyright of the original work is retained by the author.
Collections