Theoretical electronic structure of structurally modified graphene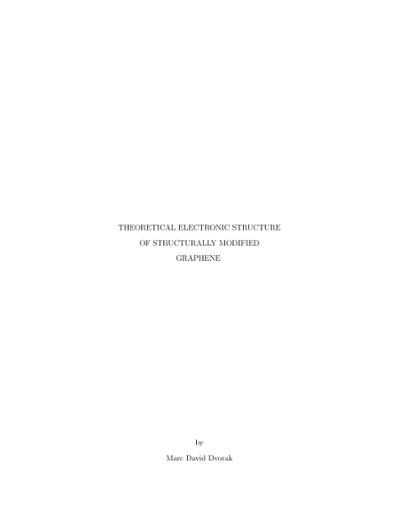 Name:
Dvorak_mines_0052E_10693.pdf
Size:
3.364Mb
Format:
PDF
Description:
Theoretical electronic structure ...
Abstract
Graphene has emerged as a promising replacement for silicon in next-generation electronics and optoelectronic devices. If graphene is to be used in semiconductor devices, however, it must acquire an electronic band gap. Numerous approaches have been proposed to control the band gap of graphene, including the periodic patterning of defects. However, the mechanism for band gap opening and the associated physics in graphene patterned with defects remain unclear. Using both analytic theory and first-principles calculations, we show that periodic patterning of defects on graphene can open a large and tunable band gap, induce strong absorption peaks at optical wavelengths, and host a giant band gap quantum spin Hall phase. First, a geometric rule is analytically derived for the arrangements of defects that open a band gap in graphene, with one ninth of all possible patterns opening a band gap. Next, we perform ab-initio density functional calculations to compare the effects of structural vacancies, hexagonal BN dopants, and passivants on the electronc structure of graphene. Qualitatively, these three types of structural defects behave the same, with only slight differences in their resulting band structures. By adjusting the shape of structural defects, we show how to move the Dirac cones in reciprocal space in accordance with the tight-binding model for the anistropic honeycomb lattice, while the fundamental mechanism for band gap opening remains the same. To quantitatively predict the band gap and optical properties of these materials, we employ many-body perturbation theory with Green's functions (GW/Bethe-Salpeter equation) to directly include electron-electron and electron-hole interactions. Structurally modified graphene shows a strong renormalization of the fundamental band gap over single particle descriptions, and a strong electron-hole interaction as indicated by strong exciton binding energies (> 0.5 eV). Finally, we show that structurally modified graphene can host a topologically insulating phase if spin-orbit interactions are included. Tight-binding calculations show that an insulating graphene nanomesh is also a quantum spin Hall insulator with a giant bulk band gap, an extremely valuable material for next-generation spintronics.
Rights
Copyright of the original work is retained by the author.
Collections