Examination of excavation chamber pressure behavior on a 17.5 m diameter earth pressure balance tunnel boring machine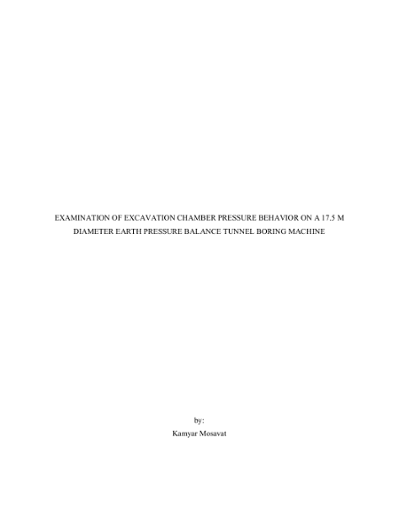 Name:
Mosavat_mines_0052N_10671.pdf
Size:
19.58Mb
Format:
PDF
Description:
Examination of excavation chamber ...
Advisor
Mooney, Michael A.
Abstract
This thesis examines excavation chamber pressure behavior within a 17.5 m diameter earth pressure balance tunnel boring machine (EPBM) used on the Alaskan Way viaduct replacement tunnel project in Seattle, Washington, USA. The study examines behavior during the first 150 rings of tunneling (10% of the project) through till and till-like deposits, granular soils, and cohesive silts and clays. A portable laboratory was established on the project site to characterize key properties of the muck as it came through the screw conveyor and onto the belt conveyor, namely, vane shear strength, density, slump, consistency and grain size distribution. Testing was performed on representative muck samples from a series of rings. Machine data, including excavation chamber pressures, screw conveyor pressures, soil conditioning inputs, and key operating parameters such as thrust, cutterhead and screw conveyor torque, cutterhead and screw conveyor rotation speeds, etc., were studied in great detail to determine what parameters influenced chamber pressures and how. The results of detailed EPBM data analysis supported with field lab test results from muck testing produced a number of key findings. Excavation chamber pressures measured by 12 pressure sensors varied up to 3 to 3.5 bar from crown to invert. Chamber pressures varied during ring mining and standstill, and the responses from different heights in the chamber were synchronous. Chamber pressure variations during excavation were influenced by changes in volumetric flow rates into the chamber via the cutterhead and out of the chamber via the screw conveyor. Increases/decreases in net volumetric inflow caused increases/decreases in chamber pressure. The magnitudes of pressure changes were linearly correlated to the net volumetric flow rate changes. A quantitative analysis of these data produced estimates of chamber material compressibility that could provide useful information in assessing the effectiveness of soil conditioning. An understanding of the role of cutterhead force on EPBM advance rate was developed. By estimating the change in cutterhead force (thrust force minus chamber pressure force), a relationship to advance rate was observed, i.e., increased cutterhead force increased the advance rate. The same was not true between thrust force and advance rate. The increases/decreases in chamber pressure mentioned above were also related to decreases/increases in cutterhead force through the mechanical concept of compressibility. Increases in chamber pressure resulting from material compression and stiffening means that the chamber soil takes on more of the force at the face (owing to relative stiffness increase). The cutterhead force therefore decreases. The behavior also works in reverse. The vertical gradients of chamber pressure provided significant insight into muck consistency and behavior. Magnitudes of gradients matched reasonably well with muck densities. Changes in gradient both locally and globally provide information about muck density under pressure and whether the chamber material is locally being compressed and decompressed. Horizontal differences in chamber pressure were evident throughout mining and standstill. When cutterhead rotation was clockwise, left side chamber pressures were higher, and when cutterhead rotation was counterclockwise, right side chamber pressures were higher. The fluctuation in these horizontal differences was influenced by many parameters including a possible compressed air gap at the crown, steel/muck adhesion, and conditioning.
Rights
Copyright of the original work is retained by the author.
Collections