Calibration of log response using core and outcrop data in the eastern Uinta Basin to allow correlation from outcrop belts into the subsurface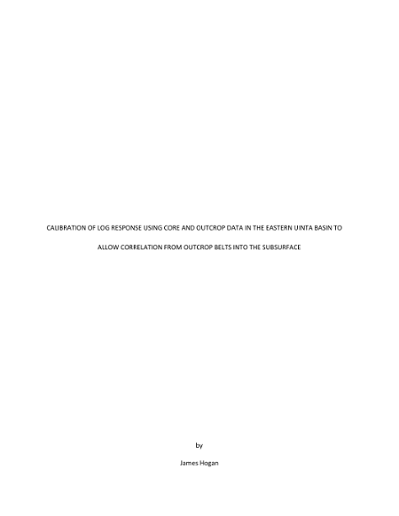 Name:
Hogan_mines_0052N_10642.pdf
Size:
9.056Mb
Format:
PDF
Description:
Calibration of log response using ...
Advisor
Sarg, J. F. (J. Frederick)
Abstract
The Green River Formation of the Uinta basin, Utah, is a proven petroleum system with many existing, highly productive fields in sandstone and carbonate facies. Other, finer-grained facies (siliceous and carbonate mud rocks) have proven potential as basin wide unconventional plays. The oil shale of the Green River Formation deposited in the Uinta basin is estimated to contain 1.32 trillion barrels of oil in place with an economic potential of as much as 77 billion barrels. The economics of individual wells, however, are highly dependent on, local facies and completion strategy, to optimize well performance it is important to understand the distribution and nature of facies around the well bore. In the Uinta basin unusual mineralogy and physical properties result in unusual log responses that can easily lead to misinterpretations; this problem is also compounded by the lateral and vertical heterogeneity of the Green River Formation. This study focuses on the Green River Formation below the Mahogany Zone, in the eastern Uinta basin of Utah. The study area stretches from Ravens Ridge in the North to White Face Butte in the south and to Randlett in the northwest. The study had 4 key objectives; 1) adapt a facies model from the Piceance Creek Basin for use in the Uinta Basin, 2) develop an approach to calibrate well logs in the Uinta basin, 3) identify and select wells in the study area with suitable logs to be calibrated, 4) construct regional cross-sections tying outcrops at White Face Butte and Ravens Ridge to cored wells in the study area. To achieve these goals, 3 principal types of data were collected; core descriptions, field descriptions and construction of a PetraTM project to compile well data. The Skyline 16 and Coyote Wash #1 cores, both over 1000ft. long have been described on a bed by bed scale and another core description, the EX-1, has been reinterpreted and upscaled to provide calibration points in the subsurface. 834 ft. of vertical section were described and a spectral gamma survey conducted at White Face Butte, Utah. Descriptions from a previous researcher were reinterpreted to provide outcrop data at Ravens Ridge. A Petra project containing several thousand wells and a variety of tops data and logs has been compiled. Outcrop and core description identified 22 facies that have been grouped into 7 facies associations, these are; FA1 Shoreline Sandstones, FA2 Shoreline Mudstones, FA3 Carbonate Shoals, FA4 Microbial Carbonates, FA5 Delta Deposits, FA6 Littoral to sublittoral siliciclastics and FA7 Oil shale. 12 wells have been selected and interpreted to construct cross-sections. These cross-sections have subsequently been interpreted to identify formations, major depositional units and facies. The construction of cross-sections and the identification of correlative units formed the basis for the calibration technique, which has identified several common patterns allowing for reliable facies identification from well logs. Incorporating outcrop data into cross-sections has shown that the Castle Peak, a marker within the Carbonate Marker Unit is equivalent to the Long Point Bed at Ravens Ridge and White Face Butte. It has also shown that previous interpretations of the Skyline16 core had substantially underestimated how much of the Green River Formation remained below the core.
Rights
Copyright of the original work is retained by the author.
Collections