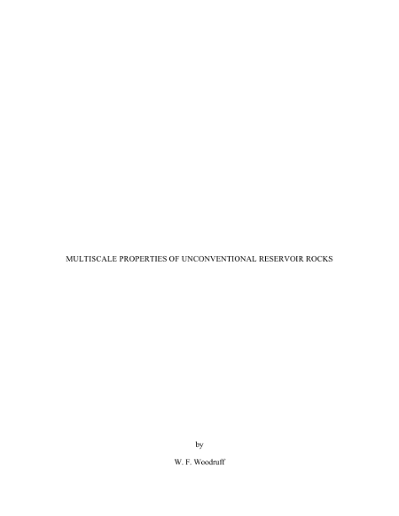 Name:
Woodruff_mines_0052E_10665.pdf
Size:
7.071Mb
Format:
PDF
Description:
Multiscale properties of uncon ...
Advisor
Revil, André, 1970-
Torres-Verdín, Carlos
Abstract
A multidisciplinary study of unconventional reservoir rocks is presented, providing the theory, forward modeling and Bayesian inverse modeling approaches, and laboratory protocols to characterize clay-rich, low porosity and permeability shales and mudstones within an anisotropic framework. Several physical models characterizing oil and gas shales are developed across multiple length scales, ranging from microscale phenomena, e.g. the effect of the cation exchange capacity of reactive clay mineral surfaces on water adsorption isotherms, and the effects of infinitesimal porosity compaction on elastic and electrical properties, to meso-scale phenomena, e.g. the role of mineral foliations, tortuosity of conduction pathways and the effects of organic matter (kerogen and hydrocarbon fractions) on complex conductivity and their connections to intrinsic electrical anisotropy, as well as the macro-scale electrical and elastic properties including formulations for the complex conductivity tensor and undrained stiffness tensor within the context of effective stress and poroelasticity. Detailed laboratory protocols are described for sample preparation and measurement of these properties using spectral induced polarization (SIP) and ultrasonics for the anisotropic characterization of shales for both unjacketed samples under benchtop conditions and jacketed samples under differential loading. An ongoing study of the effects of kerogen maturation through hydrous pyrolysis on the complex conductivity is also provided in review. Experimental results are catalogued and presented for various unconventional formations in North America including the Haynesville, Bakken, and Woodford shales.
Rights
Copyright of the original work is retained by the author.
Collections