Determination of the uncertainty in excavated volume estimation from slurry shield tunnel boring machines used on the Queens Bored East Side Access tunneling project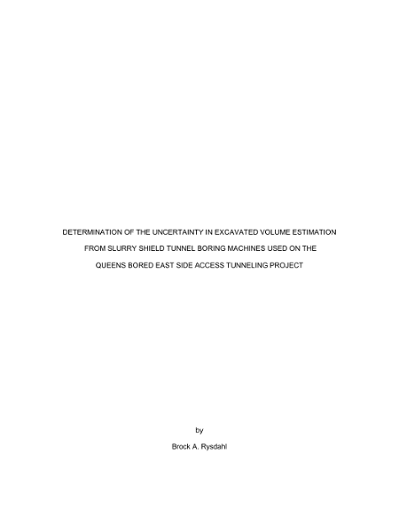 Name:
Rysdahl_mines_0052N_10668.pdf
Size:
7.606Mb
Format:
PDF
Description:
Determination of the uncertainty ...
Advisor
Mooney, Michael A.
Abstract
The East Side Access Queens bored tunnels project involved the construction of four near surface, closely spaced metro transit tunnels beneath the Sunnyside rail yards and mainline railroad tracks. The project used two slurry shield tunnel boring machines (TBMs) to excavate the four tunnels, with typical ground surface deformation from the combined influence of the four tunnels less than 5 mm. The small ground deformations provided a unique opportunity to examine the relationship between excavated volume and observed ground deformation. This thesis presents an in depth analysis of the behavior and limitations of slurry circuit instrumentation, specifically to better understand the estimation of excavated volume. In this study, the volume of soil excavated is estimated along four tunnel alignments and two slurry TBMs using flow and mass based methods. Comprehensive uncertainty analysis is performed taking into consideration the precision and accuracy uncertainty of all slurry circuit sensors combined with error propagation that stems from the combination of measurements into the estimation equations. Excavated volume estimates were found to be highly variable and not representative of volume loss implied by the observed ground deformation. The uncertainty and error in the slurry circuit instrumentation was found to be the largest contributor to the variance observed in the excavated volume calculation. The analysis of bypass mode was found to be critical in determining and verifying the accuracy of the slurry circuit instrumentation. Flow based inaccuracies between a set of flow meters on a given TBM could varying by percent differences by up to 1.3% of a single flow reading Density inaccuracies were found to vary along the tunnel alignment for three out of the four tunnels, with inaccuracy for a single TBM ranging by up to 5% over an single alignment.
Rights
Copyright of the original work is retained by the author.
Collections