Effect of various deformation processes on the corrosion behavior of casing and tubing carbon steels in sweet environment, The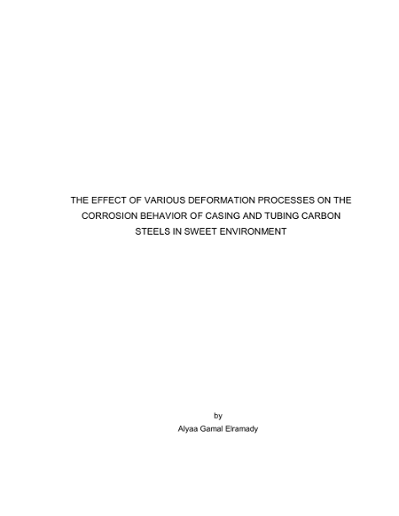 Name:
Elramady_mines_0052E_10662.pdf
Size:
14.14Mb
Format:
PDF
Description:
The effect of various deformation ...
Advisor
Mishra, Brajendra
Abstract
The aim of this research project is to correlate the plastic deformation and mechanical instability of casing steel materials with corrosion behavior and surface change, in order to identify a tolerable degree of deformation for casing steel materials. While the corrosion of pipeline and casing steels has been investigated extensively, corrosion of these steels in sweet environments with respect to plastic deformation due to bending, rolling, autofrettage, or handling needs more investigation. Downhole tubular expansion of pipes (casings) is becoming standard practice in the petroleum industry to repair damaged casings, shutdown perforations, and ultimately achieve mono-diameter wells. Tubular expansion is a cold-drawing metal forming process, which consists of running conical mandrels through casings either mechanically using a piston or hydraulically by applying a back pressure. This mechanism subjects the pipes to large radial plastic deformations of up to 30 pct. of the inner diameter. It is known that cold-working is a way of strengthening materials such as low carbon steel, but given that this material will be subjected to corrosive environments, susceptibility to stress corrosion cracking (SCC) should be investigated. This research studies the effect of cold-work, in the form of cold-rolling and cold-expansion, on the surface behavior of API 5CT steels when it is exposed to a CO2-containing environment. Cold-work has a pronounced influence on the corrosion behavior of both API 5CT K55 and P110 grade steels. The lowest strength grade steel, API 5CT K55, performed poorly in a corrosive environment in the slow strain rate test. The ductile material exhibited the highest loss in strength and highest susceptibility to stress corrosion cracking in a CO2-containing environment. The loss in strength declined with cold-rolling, which can be ascribed to the surface compressive stresses induced by cold-work. On the other hand, API 5CT P110 grade steels showed higher susceptibility to SCC when they were cold-rolled and cold-expanded. The research found that surface compressive stresses have an effect on the SCC behavior of casing and tubing steels. The CO2 corrosion behavior and atomic processes at the corroding interface were investigated at laboratory temperature using electrochemical techniques. Cold-work was found to have an influence on the corrosion behavior of both API 5CT K55 and P110 grade steels. These behaviors were found to be material and process dependent. Surface evaluation techniques such as field emission scanning electron microscope (FE-SEM) and X-ray diffraction (XRD) analysis did not detect formation of a protective scale. X-ray diffraction and X-ray photoelectron spectroscopy (XPS) analysis both detected the appearance of a scale that was traced back to magnetite.
Rights
Copyright of the original work is retained by the author.
Collections