Detection and characterization of nanoparticles in aqueous media and biological tissues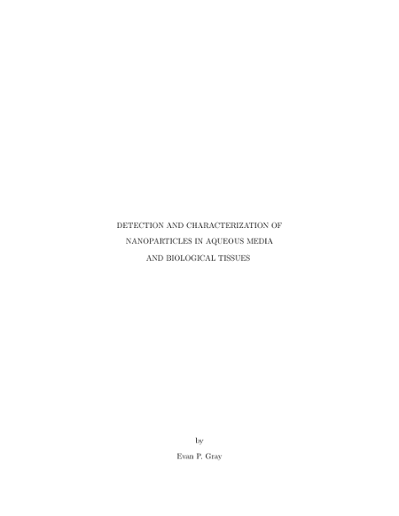 Name:
Gray_mines_0052E_10663.pdf
Size:
7.954Mb
Format:
PDF
Description:
Detection and characterization ...
Advisor
Higgins, Christopher P.
Abstract
Robust methods to detect and characterize engineered nanoparticles (ENPs) in environmental samples are an urgent need given the increasing use of ENPs in consumer products. ENPs in consumer products partition to biosolids during wastewater treatment where they subsequently can be released to the environment through the land application of biosolids. Detailed information about ENP bioaccumulation and toxicity is difficult to obtain due to a lack of methodology that accurately describes exposure and bioaccumulated dose, specifically identifying size, particle number and mass distributions. As a first step in characterizing ENPs in environmental samples, this work compared asymmetrical flow field flow fractionation (AF4) and hydrodynamic chromatography (HDC), both coupled to inductively coupled plasma mass spectrometry (ICP-MS), for use in characterizing ENPs in aqueous samples. Subsequent work used single particle ICP-MS (spICP-MS) detection coupled with a tetramethylammonium hydroxide (TMAH)-based extraction technique to examine ENP bioaccumulation in both Daphnia magna and Eisenia fetida. Direct comparison of separation procedures (AF4 and HDC) showed AF4 was capable of separating mixtures (5, 20, 50 and 100 nm) of gold ENPs with significantly greater resolution than HDC. However, HDC recoveries ranged from 77 to 96%, while recovery during AF4 ranged from 4 to 89%. The limits of detection for both techniques were found to be approximately 5 [mu] g L-1. Both AF4 and HDC coupled to ICP-MS are useful analytical approaches, though AF4 is limited by low recovery while HDC is limited by resolution. Subsequent work overcame these limitations by applying spICP-MS because it can resolve and recover ENPs. Tissue extraction using TMAH was capable of quantitatively liberating Au and Ag ENPs from ground beef, D. magna, and Lumbriculus variegatus. Using spICP-MS, ENP recovery was between 83-121% in all tissues. Validating exposure tests using D. magna showed tissue concentrations between 613 ± 230 [mu]g kg-1 wet weight (ww) and 59 ± 52 [mu]g kg-1 ww for aqueous exposures of 98 [mu]g L-1 100 nm Au and 4.8 [mu]g L-1 100 nm Ag ENPs. Particle size distributions determined from D. magna tissues suggested minimal shifts in the size distributions of ENPs accumulated, as compared to the exposure media. Chronic soil exposures of E. fetida at 5 mg kg-1 dw resulted in Ag bioaccumulation from 0.06 to 0.27 [mu]g kg-1 wet weight (ww) in a spiked artificial soil and 0.17 to 0.21 [mu]g kg-1 ww in a spiked biosolids-amended soil. ENPs were observed in E. fetida in both the dissolved Ag control and in the unspiked soil controls, suggesting ENPs can form in soil or may be present in unspiked soils. Future work should focus on further developing methods to identify ENP form and composition in both exposure media (soil, water) and exposed organisms to better identify transformation products, their bioavailability, and ultimately to identify any risks posed from ENP exposure.
Rights
Copyright of the original work is retained by the author.
Collections