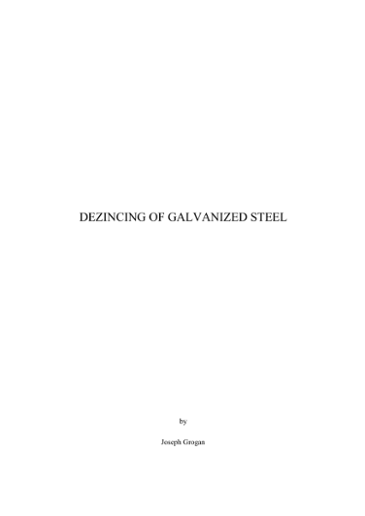 Name:
Grogan_mines_0052E_10656.pdf
Size:
12.05Mb
Format:
PDF
Description:
Dezincing of galvanized steel
Advisor
Anderson, Corby G.
Abstract
This research project has developed a novel process for the dezincing of galvanized steel. This process is a pre-treatment step that removes the zinc coating from galvanized steel scrap, leaving a steel product with low zinc and sulfur residue that can be used as a feed in foundries. Galvanized steel is not presently used in foundries as they generally aren't set up to deal with zinc fuming from the coating. The dezincing process involves leaching the zinc coating from the galvanized scrap in sulfuric acid. This research has established there is an electrokinetic effect from steel surfaces on the dezincing reaction. Adjacent steel surfaces to the zinc increase the reaction rate by acting as a site for hydrogen reduction, the rate limiting step in the dezincing reaction. Acid concentration and temperature also greatly affect the dezincing reaction rate. When all these parameters are optimized the dezincing rate, and therefore plant throughput, of a dezincing operation can greatly increase. In an effort to make the dezincing process a zero discharge process, diffusion dialysis acid recovery technology was successfully coupled with the leach process, allowing for a large recirculating load of acid to be recycled between these two unit operations. This minimizes acid use while maintaining optimum leach conditions. It was determined that the low acid high zinc sulfate solution produced by the leaching and acid recovery is ideal for the generation of a value added zinc fertilizer product through spray drying, a conventional route for zinc fertilizer production. If the feed material and leach conditions are controlled to minimize dissolution of impurities, the need for an impurity bleed from the process is made redundant as the minimal amount of impurities can report to the final salable zinc fertilizer product. This can truly make this a zero discharge process as the only outlets need be the dezinced scrap and the zinc product. Keeping the scrap in the leaching solution for as short a time as possible is key to accomplishing this. A method of monitoring the progression of the leach through monitoring a bulk corrosion potential of the scrap was tested and found to be successful at indicating completion of the dezincing reaction. This work incorporates an economic analysis of the zinc fertilizer and decoated scrap markets. A dezincing process design with mass and energy balance was generated and used to cost a 20,000 tonne/yr dezincing operation for two flowsheet configurations. This culminates in indications for under which market conditions this process could be economically viable.
Rights
Copyright of the original work is retained by the author.
Collections