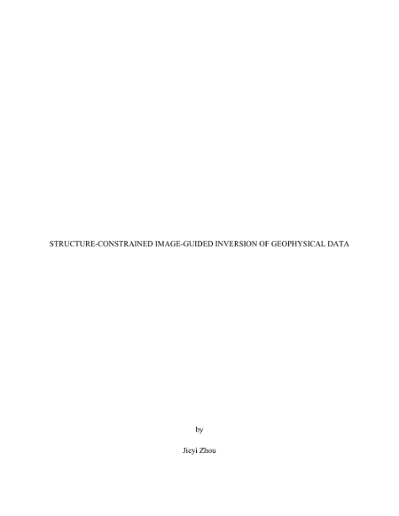 Name:
Zhou_mines_0052E_10657.pdf
Size:
31.49Mb
Format:
PDF
Description:
Structure-constrained image-guided ...
Advisor
Revil, André, 1970-
Abstract
The regularization term in the objective function of an inverse problem is equivalent to the "model covariance" in Tarantola's wording. It is not entirely reasonable to consider the model covariance to be isotropic and homogenous, as done in classical Tikhonov regularization, because the correlation relationships among model cells are likely to change with different directions and locations. The structure-constrained image-guided inversion method, presented in this thesis, aims to solve this problem, and can be used to integrate different types of geophysical data and geological information. The method is first theoretically developed and successfully tested with electrical resistivity data. Then it is applied to hydraulic tomography, and promising hydraulic conductivity models are obtained as well. With a correct guiding image, the image-guided inversion results not only follow the correct structure patterns, but also are closer to the true model in terms of parameter values, when compared with the conventional inversion results. To further account for the uncertainty in the guiding image, a Bayesian inversion scheme is added to the image-guided inversion algorithm. Each geophysical model parameter and geological (structure) model parameter is described by a probability density. Using the data misfit of image-guided inversion of the geophysical data as criterion, a stochastic (image-guided) inversion algorithm allows one to optimize both the geophysical model and the geological model at the same time. The last problem discussed in this thesis is, image-guided inversion and interpolation can help reduce non-uniqueness and improve resolution when utilizing spectral induced polarization data and petrophysical relationships to estimate permeability.
Rights
Copyright of the original work is retained by the author.
Collections