Risk assessment and spatial variability in geotechnical stability problems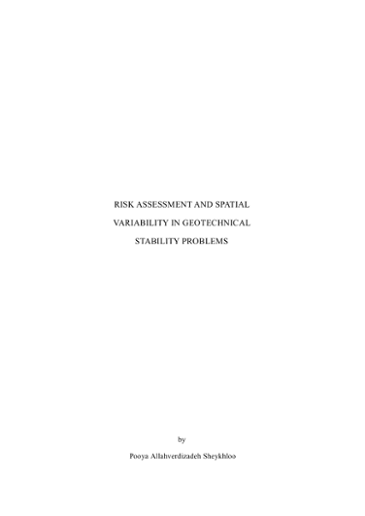 Name:
AllahverdizadehSheykhloo_mines ...
Size:
5.791Mb
Format:
PDF
Description:
Risk assessment and spatial ...
Abstract
Reliability analysis has gained considerable popularity in practice and academe as a way of quantifying and managing geotechnical risk in the face of uncertain input parameters. The purpose of this study is to investigate the influence of soil spatial variability on the probability of failure of different geotechnical engineering problems, including block compression, bearing capacity of strip footings, passive and active earth pressure and slope stability problems. The primary methodology will be the Random Finite Element Method (RFEM) which combines finite element analysis with random field theory and Monte-Carlo simulation. The influence of the spatial correlation length of soil properties on design outcomes has been assessed in detail through parametric studies. Results from traditional Factor of Safety approaches have been compared with those from probabilistic analysis. In addition, the influence of the coefficient of variation of the input random variables and two different input random variable distribution functions on the probability of failure have been studied. The concept of a "worst case" spatial correlation length has been examined in detail, and was observed in all the geotechnical problems considered in this thesis. This "worst case" concept is of particular interest, because it could be used as a basis for design in the absence of good quality site-specific data.
Rights
Copyright of the original work is retained by the author.
Collections