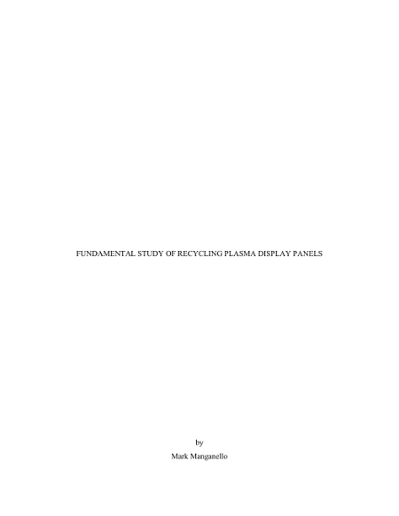 Name:
Manganello_mines_0052N_10654.pdf
Size:
1.149Mb
Format:
PDF
Description:
Fundamental study of recycling ...
Advisor
Taylor, Patrick R.
Abstract
A method for the beneficiation of plasma display panels was evaluated from a literature survey, thermodynamic data, and experimental work. The proposed process consists of mechanically breaking the panel, acid baking the powder coated glass, water dissolution of the acid baked product, solvent extraction of indium, and rare earth oxalate precipitation. The benefit of this process is that there is only one feed stream and the need for extra processing equipment is not necessary. A kinetic leach study was conducted on agitated leach tests for ITO powder. The ideal leaching conditions were found to be 90°C leaching temperature, 2 hours leaching time, ~300RPM agitation rate, 1M H2SO4, and 7g/L pulp density. Particle size was also a factor with smaller particle sizes having a faster leach rate. The acidic baking of ITO powder and rare earth phosphor powders was promising. At parameters of 300°C, 4 hours of baking time, 12M H2SO4, and a 3:1 stoichiometric ratio of acid to indium and rare earth content, recoveries of up to 96% were achieved for indium and 93% for yttrium. Recovery of gadolinium and europium were lower, so further work should be conducted to optimize recovery of all constituents. Acid baking was also promising for selectively leaching indium over tin with only 5% of tin recovered. Combined processing of ITO and rare earth phosphor powders showed promise but further work is required. Indium solvent extraction was conducted followed by rare earth oxalate precipitation. An extraction of 97% was attained with the solvent extraction using D2EHPA, and upwards of 87% of rare earths was recovered as oxalates.
Rights
Copyright of the original work is retained by the author.
Collections