High throughput optimization of Cu2-2xZnxO and ZnO1-xSx thin film alloy materials via physical vapor deposition techniques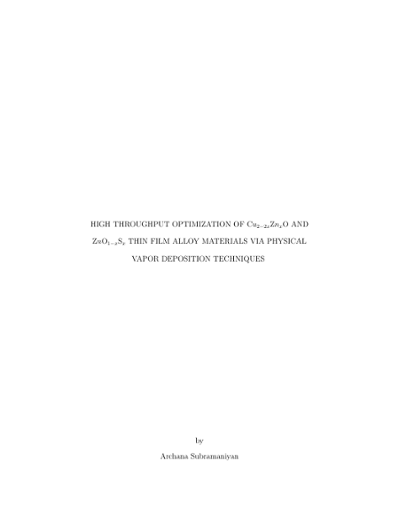 Name:
Subramaniyan_mines_0052E_10629.pdf
Size:
5.147Mb
Format:
PDF
Description:
High throughput optimization of ...
Advisor
O'Hayre, Ryan P.
Ginley, D. S. (David S.)
Abstract
Alloying has long been used in the semiconductor field to tune optical and electrical materials properties. Here, we implement this strategy on earth abundant, low cost and nontoxic semiconductor materials based on Cu2O and ZnO to achieve enhanced structural and opto-electronic properties. Specifically, this thesis studies the alloying of Cu2O with Zn and ZnO with S via non-equilibrium physical vapor deposition techniques such as combinatorial RF magnetron sputtering and pulsed laser deposition (PLD), followed by detailed structure-property characterization to determine the effects of the alloying processes. Cu2O is a classical p-type semiconductor with a direct band gap of 2.1 eV. It is a candidate solar cell absorber material that has been spotlighted recently due to its low cost, earth abundance and non-toxic nature. Although the Shockley Queisser theoretical efficiency limit of Cu2O based solar cells is 20%, the maximum achieved efficiency so far is rather low (5.38%). The poor efficiency can in part be attributed to its direct forbidden band gap (2.1 eV) and higher optical absorption threshold (2.6 eV). Improving the optical absorption of Cu2O in the forbidden energy range (2.1 to 2.6 eV) can enhance the solar cell performance and improve the efficiency. Theoretical studies have shown that alloying of Cu2O with Zn has the potential to enhance the optical absorption in the forbidden energy range but demands Zn solid solubility much higher than the thermodynamic limit, which is less than one percent. Therefore, here, we alloy Cu2O with Zn using non-equilibrium deposition processes with an intention to increase the solid solubility of Zn in Cu2O and study its material properties. As a first step, the deposition parameters for a phase pure Cu2O is optimized using PLD. The non-equilibrium growth of Cu2O was studied as a function of oxygen partial pressure (pO2: 0.025 - 2.5 mTorr) and total pressure (Ptot: 3 - 100 mTorr) with a temperature gradient (300 - 600 °C) across the substrate. Unlike conventional PLD oxide growth studies where either O2 or Ar gas is used, here, both the gases were utilized to deposit copper oxide thin films with independently tunable oxygen activity and plume dynamics during deposition. While Cu second phases were formed with increasing temperature, the formation of CuO second phases were observed with increasing pO2. Phase pure Cu2O was formed at intermediate pO2 (0.25 mTorr) and lower temperatures (310 - 325 °C). Upon varying the total pressure in the chamber from 3 - 100 mTorr (pO2 fixed at an optimized value), it was found that phase pure Cu2O can be formed at both the lower end (310 - 325 °C) and higher end (400 - 600 °C) of the temperature range studied depending on the Ptot value. From this study, we found that total pressure in the chamber is a key processing parameter that alters the plume dynamics and thus the kinetic rates during deposition. This enables the synthesis of phase pure Cu2O at lower temperatures, an important criteria for many practical applications. Next, Cu2-2xZnxO alloy thin films were synthesized both via combinatorial PLD and RF magnetron sputtering as a function of composition and temperature. From these high throughput synthesis studies, a Cu-Zn-O synthesis phase map was generated that provided insights into the maximum achievable (non-equilibrium) solubility of Zn into Cu2O. While sputtered films obtained a maximum solid solubility of up to 17 at% in the temperature range 210 - 270 °C, PLD deposited films did not yield phase pure Cu2-2xZnxO thin films. The observed Zn solid solubility in sputtered films is much higher than the thermodynamic equilibrium limit (sub atomic range). With increasing Zn composition, the preferential orientation in the film changes from (200) to (111) but the lattice parameter and the grain size (80 - 180 nm) remains constant. Alloying of Cu2O with Zn increases the optical absorption (at the band gap energy, 2.1 eV) by 4 times and reduces the p-type conductivity by an order of magnitude. ZnO is a n-type material with a direct band gap of about 3.3 eV and is used in several applications including transparent high power electronic devices, solar cells and piezoelectric transducers. Alloying of ZnO with S (ZnO1-xSx) has been demonstrated to have varied band gap and band offset with varying alloying composition (x). This band offset tunable nature of the alloy made it a promising material to replace the environmentally harmful CdS buffer layer in copper indium gallium diselenide (CIGS) solar cells. Among the sputtered ZnO1-xSx alloys, films at intermediate compositions with poor crystallinity have been shown to enhance the solar cell performance and room temperature (RT) sputtered alloys reported a maximum efficiency of about 18.3% in CIGS solar cells. These reports suggests that RT deposited and/or amorphous ZnO1-xSx have a greater potential to further enhance the solar cell performance and efficiency. Thus, we have deposited the full range of composition of ZnO1-xSx alloy with x = 0 to 1 at RT via RF magnetron co-sputtering and studied their structural and optical properties. A Zn-O-S synthesis phase map was generated which indicated the presence of three structural phases: crystalline, amorphous and mixed phases (crystalline + amorphous). The structure of the alloy changes from crystalline to mixed, to amorphous, to mixed and then back to crystalline phases with increasing RF power ratio. While sulphur rich ZnO1-xSx alloys (ZnO/(ZnO+ZnS): 0 - 0.29) were observed to crystallize in the cubic ZnS structure, the crystal structure of alloys with RF power ratio 0.35 to 0.41 were unclear. Oxygen rich alloys (ZnO/(ZnO+ZnS): 0.65 - 1) were observed to exhibit the wurtzite ZnO structure. Amorphous phases were synthesized in the intermediate region. All the alloys were optically transparent in the visible region and had transmittance greater than 80%. The absorption edge of amorphous alloys were blue shifted and had an optical band gaps of about 3.3 - 3.4 eV.
Rights
Copyright of the original work is retained by the author.
Collections