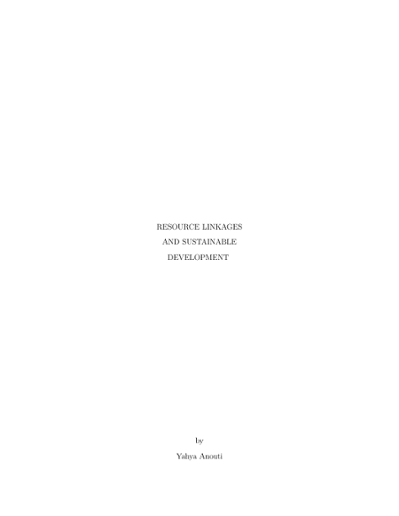 Name:
Anouti_mines_0052E_10623.pdf
Size:
2.466Mb
Format:
PDF
Description:
Resource linkages and sustainable ...
Advisor
Balistreri, Edward J. (Edward Jay)
Dahl, Carol A. (Carol Ann), 1947-
Abstract
Historically, fossil fuel consumers in most developing hydrocarbon-rich countries have enjoyed retail prices at a discount from international benchmarks. Governments of these countries consider the subsidy transfer to be a means for sharing the wealth from their resource endowment. These subsidies create negative economic, environmental, and social distortions, which can only increase over time with a fast growing, young, and rich population. The pressure to phase out these subsidies has been mounting over the last years. At the same time, policy makers in resource-rich developing countries are keen to obtain the greatest benefits for their economies from the extraction of their exhaustible resources. To this end, they are deploying local content policies with the aim of increasing the economic linkages from extracting their resources. Against this background, this dissertation's three essays evaluate (1) the global impact of rationalizing transport fuel prices, (2) how resource-rich countries can achieve the objectives behind fuel subsidies more efficiently through direct cash transfers, and (3) the economic tradeoffs from deploying local content policies and the presence of an optimal path. We begin by reviewing the literature and building the case for rationalizing transport fuel prices to reflect their direct costs (production), indirect costs (road maintenance) and negative externalities (climate change, local pollutants, traffic accidents and congestion). To do so, we increase the scope of the economic literature by presenting an algorithm to evaluate the rationalized prices in different countries. Then, we apply this algorithm to quantify the rationalized prices across 123 countries in a partial equilibrium setting. Finally, we present the first comprehensive measure of the impact of rationalizing fuel prices on the global demand for gasoline and diesel, environmental emissions, government revenues, and consumers' welfare. By rationalizing transport fuel prices we estimate that the demand for gasoline could be reduced by 7.8 percent and that of diesel by 5.9 percent. This would lead to not only reduction in the associated negative externalities, but also to the generation of more than USD400 billion in revenues for governments. However, the partial equilibrium analysis in essay one ignores the general equilibrium effects that will be mainly driven by how the government spends the subsidy. In essay 2, we build the case for phasing out these subsidies and accompanying that by a welfare compensating cash transfer. In order to evaluate the impact of that on consumer's welfare, we develop a numerical model for Saudi Arabia in a general equilibrium setting to discuss a phase out of transport fuel subsidies that is. Results show that the Saudi government can increase its consumers' welfare up to five percentage points. In case the cash transfer is adjusted to keep consumers' utility at the pre-reform level, the required compensating transfer would leave the government with three percentage points of additional revenues. Finally, we highlight policy implications of phasing out the transport fuel subsidies. Finally, in essay 3 we turn our focus to the application of local content policies in the oil and gas sector. There is limited literature that investigates economic linkages from the extractive industries, assesses intertemporal tradeoffs, and guides the design of efficient and sustainable policies. Our contribution in this essay is three-fold. First, we present the first comprehensive analysis of economic linkages from the oil and gas sector across 48 countries. Then, we analyze the economic distortions from applying local content policies using a Hotelling type optimal control model with an international oil company maximizing its profits subject to a local content requirement. Finally, we investigate the presence of a socially optimal local content level when the social planner maximizing the net benefits from the extraction of resources. The social planner is presented with social objectives and a learning curve that are not internalized by the international oil companies. Findings reveal that in presence of (1) social benefits from using domestic input or (2) learning curve effects, there exists an optimal local content path that increases with cumulative production.
Rights
Copyright of the original work is retained by the author.
Collections