Enhanced monitoring of hazardous waste site remediation: electrical conductivity tomography and citizen monitoring of remediation through the EPA's Community Advisory Group Program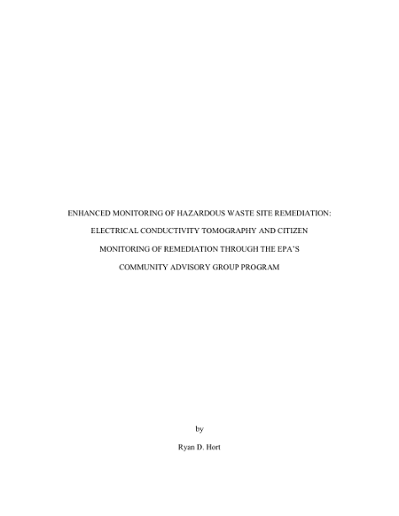 Name:
Hort_mines_0052E_10628.pdf
Size:
4.002Mb
Format:
PDF
Description:
Enhanced monitoring of hazardous ...
Advisor
Munakata Marr, Junko
Abstract
In situ chemical oxidation using permanganate has become a common method for degrading trichloroethene (TCE) in contaminated aquifers. Its effectiveness, however, is dependent upon contact between the oxidant and contaminant. Monitoring permanganate movement after injection is often hampered by aquifer heterogeneity and insufficient well coverage. Time lapse electrical conductivity tomography increases the spatial extent of monitoring beyond well locations. This technique can create two- or three-dimensional images of the electrical conductivity within the aquifer to monitor aquifer chemistry changes caused by permanganate injection and oxidation reactions. In-phase and quadrature electrical conductivity were measured in homogeneous aqueous and porous media samples to determine the effects of TCE and humate oxidation by permanganate on both measures of conductivity. Further effects of clean sand, 10% kaolinite (v/v), and 10% smectite (v/v) on both types of conductivity were studied as well. Finally, in-phase electrical conductivity was measured over time after injecting permanganate solution into two-dimensional tanks containing artificial groundwater with and without TCE to observe the movement of the permanganate plume and its interaction with TCE and to examine the effectiveness of time-lapse conductivity tomography for monitoring the plume's movement. In-phase electrical conductivity after oxidation reactions involving permanganate, TCE, and humate could be accurately modeled in homogeneous batch samples. Use of forward modeling of in-phase conductivity from permanganate concentrations may be useful for improving recovery of conductivity values during survey inversion, but further work is needed combining the chemistry modeling with solute transport models. Small pH-related quadrature conductivity decreases were observed after TCE oxidation, and large quadrature conductivity increases were observed as a result of sodium ion addition; however, quadrature conductivity could not be related to concentrations of permanganate or reaction products. Additionally, EPA Superfund sites participating in the Community Advisory Group (CAG) program were examined to determine how communities may have benefitted from the program. While CAG participation was correlated with slower achievement of EPA cleanup milestones, many CAGs successfully achieved five standardized social goals. CAGs that achieved these social goals varied in composition but were similar in their focus on community outreach and ability to extend their influence beyond CAG meetings.
Rights
Copyright of the original work is retained by the author.
Collections