Investigation of the seismoelectric beamforming imaging technique, An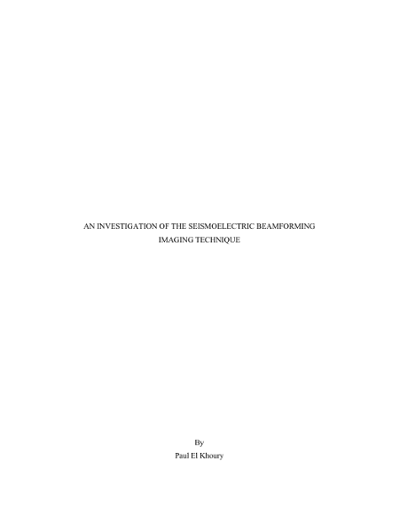 Name:
ElKhoury_mines_0052N_10622.pdf
Size:
5.119Mb
Format:
PDF
Description:
An investigation of the seismo ...
Advisor
Revil, André, 1970-
Abstract
The electrical current density generated by the propagation of a seismic wave at the interface characterized by a drop in the electrical conductivity and/or the permeability produces an electrical field of electrokinetic nature that can be measured remotely with a signal-to-noise ratio depending on the background noise and signal attenuation. The seismoelectric beamforming approach is a new imaging technique based on scanning porous media using appropriately delayed in time seismic sources to focus the hydromechanical energy on a regular grid and measure the associated electric field remotely. This method can be used to image heterogeneities in high definition and provide additional information to classical geophysical methods such as structural data to electric resistivity tomography. In this thesis, I present the seismoelectric constitutive equations / theory and I numerically simulate, using the poroacoustic approximation, a laboratory tank experiment to investigate the resolution of the seismoelectric beamforming approach. The two-dimensional model consists of a water-filled bucket in which a cylindrical sandstone core sample is set up vertically crossing the water column. The hydrophones/seismic sources are located on a 50 cm diameter circle in the bucket and the seismic energy is focused on the grid in order to scan the medium and determine the geometry of the porous plug using the output electric potential image. Next, I conduct a series of numerical tests to explore the sensitivity of the seismoelectric beamforming approach to the wavelength (frequency) of the seismic wave and to see the impact of a wrong velocity model. Finally, I summarize my laboratory experiments and techniques applied and I provide recommendations for future seismoelectric experiments.
Rights
Copyright of the original work is retained by the author.
Collections